A man has been jailed for four years for punching a 16-year-old girl in Plaistow, east London, so hard that she was knocked out.
Ayoade, 35, was caught on CCTV in November approaching his victim from behind before punching her in the head in an unprovoked attack.
In the fil, he runs off, leaving the teenager, who was just 500 metres from her home, unconscious.
The girl sustained bruises to her head, cuts to her face and three broken teeth. She was taken to Newham General Hospital and treated for her injuries.
Ayoade told police that he saw the 16-year-old victim in the street and did not like the way she looked so he hit her.
He was also sentenced to 19 months for an almost identical incident that took place in Plaistow tube station 12 months earlier. His previous victim was also left unconscious.
In that attack, a 21-year-old female student from Birmingham was speaking on the phone to a friend while trying to buy a train ticket.
He approached her from behind and punched her in the side of her face.
Police arrested Ayoade on suspicion of assault after receiving anonymous calls identifying him from the footage released.
He was sentenced at Inner London Crown Court and his jail terms will run concurrently.
Judge Roger Chapple said Ayoade remained a danger to the public and said he had given him the maximum sentence he could impose.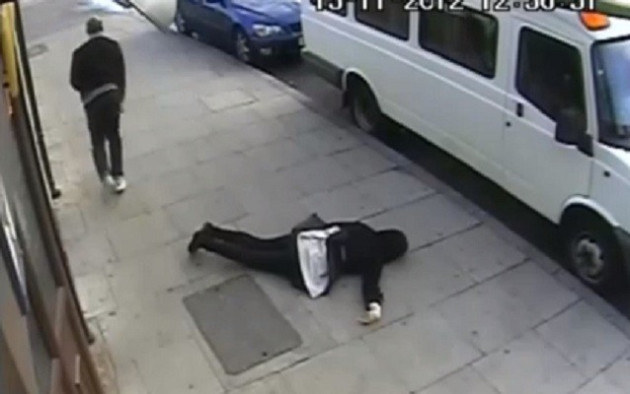 "I am concerned of the risk he poses to others, especially lone women. These are the sort of attacks which cause the public ever greater concern. The public fear for their safety even in the hours of daylight.
"The CCTV images are worth many thousands of words. They catch graphically the shocking violence of these attacks."
Detective Constable Glenn Peach, of the Met's Violent Crime Unit at Newham, said: "These were unprovoked and cowardly attacks on defenceless women for no reason whatsoever.
"In the assault outside the Black Lion, the force [with which] the teenage victim hit the pavement after being punched in the head could have resulted in far worse injures. It was shocking attack on someone who was unable to defend themselves.
"Ayoade has expressed little remorse for what he has done.
"He was a clearly a danger to the public and needed to be caught before he caused serious injury to someone else."
Oliver Carne, of the British Transport Police, spoke about the attack on the 21-year-old: "This was a shocking, unprovoked assault on a lone woman who was left traumatised and in a lot of pain.
"Violent incidents are rare on the Tube network and the chances of becoming a victim are very slim.
"However, BTP takes violence very seriously and we will do everything in our power to bring offenders to justice."