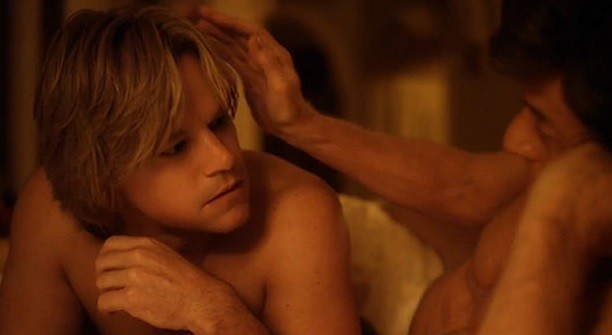 Michael Douglas left many fans stunned when he stripped nude to film a gay sex scene with Matt Damon in the Liberace biopic, Behind the Candelabra.
And now the Hollywood actor has admitted that, although the he approached the raunchy sequences in a completely professional manner, he still feared the aftermath.
In the latest edition of New York magazine, Douglas finally opens up about getting into bed with Damon for a same-sex romp. "Once you get that first kiss in, you are comfortable," he says. "Matt and I didn't rehearse the love scenes. We said, 'Well – we've read the script, haven't we?' "
The 68-year-old star continues: "The hardest thing ... is that everybody is a judge. I don't know the last time you murdered somebody or blew anyone's brains out, but everyone has had sex and probably this morning, which means everyone has an opinion on how it should be done."
Douglas and Damon play Liberace and his lover Scott Thorson respectively in the HBO film about the legendary pianist famed for his musical abilities as well as his flamboyant and extravagant lifestyle.
The Fatal Attraction star also discussed returning to work following his battle with cancer.
The father-of-three was diagnosed with stage four throat cancer in 2010 after doctors discovered a tumour under his tongue and took time out to recover from the illness.
He said: "When I was ill, I mostly lay on the couch. I watched a lot of sports, anything where I didn't know the ending... I did [miss working], but I was too weak to miss much of anything. I was stage four and there is no stage five."
Behind The Candelabra is scheduled to air on HBO in the US on 27 May