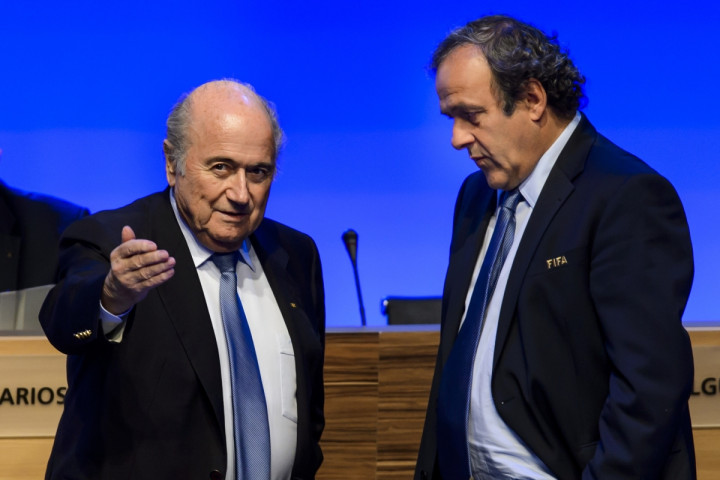 Uefa president Michel Platini has withdrawn his backing for Fifa president Sepp Blatter and told world football's governing body "it is time for a change".
Blatter, 78, has come under fresh scrutiny over the scandal emerging from Qatar's successful 2022 World Cup bid that has further undermined his intentions to seek re-election for what will be his fifth term presiding over the organisation.
Platini has since accused his Fifa counterpart of going back on his word and insists it is time for a "breath of fresh air".
"I do not support him. I have known him for a long time, I like him, but I'm not favourable to him having another term," Platini told L'Equipe. "I supported him in 1998, but I do not support in 2014. And in the future, I shall not support Blatter. I told him that. I think Fifa needs a breath of fresh air."
Blatter's crumbling reputation recently saw European football's leaders call for him to step down, calls from esteemed figures including Uefa executive committee member Michael van Praag, Football Association chairman Greg Duke and vice chairman David Gill.
Platini added he will consider standing against Blatter, although he will hold off on making a decision until he has assessed his options.
"It is an option. But it is not because of Blatter that Michel Platini would stand," he added. "And it is not because of Sepp Blatter that Michel Platini would not appear. My only concern is what I want to do. I am almost 60 years and I need to know what I want.
"I just want to be sure what I want to do. In my life, I wanted to be a footballer, it went well. I was asked to coach, and to be president of the organising committee of the 1998 World Cup, I liked it. Then I became a member of the Executive Committee (Fifa). Now I am very happy to be at Uefa. I am loved by national associations. But Fifa is something important."