A growing list of corporate sponsors - including Sony, Adidas and Visa - are calling on football's world governing body Fifa to launch a thorough investigation into the circumstances surrounding Qatar's successful bid to host the 2022 World Cup, as the Sunday Times publishes fresh claims of bribery and lobbying on behalf of the Gulf state.
The newspaper on Sunday published further details of meetings and deals which it claim show former Fifa vice-president Mohamed bin Hammam lobbied on behalf of his country.
Bin Hammam has since been banned from football for life. Qatar denies he was ever involved with the bid, which it won despite having no football tradition and summer temperatures of 45C. It is estimated that over 900 workers, mainly from India and Nepal, have died in the construction of new stadiums for the tournament.
It has now been announced that Visa, one of the major tournament sponsors, want Fifa to take "appropriate actions to respond to the report and its recommendations. We understand Fifa is taking this matter seriously and we will continue to monitor its internal investigation."
Visa's stern warning follows a similar statement by sportswear manufacturer Adidas, which claimed the negative tenor of claims wasn't good for "football nor for Fifa and its partners".
Earlier the electronics giant Sony, one of the principal sponsors of the 2022 tournament, called for an investigation into the claims. "As a Fifa partner, we expect these allegations to be investigated appropriately," said the company in a statement. "We continue to expect Fifa to adhere to its principles of integrity, ethics and fair play across all aspects of its operations."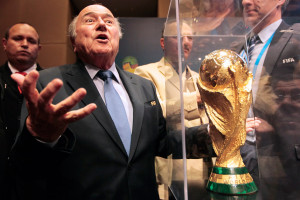 Among a number of allegations, the newspaper claims Bin Hammam had a meeting with Russian President Putin just weeks before the December 2010 vote where the two men discussed "bilateral sporting relations". Russia won the bidding to host the 2018 tournament, beating England. Last week it was claimed Bin Hammam also bribed African football officials to the tune of £3 million.
US attorney Michael Garcia is investigating claims of corruption surrounding the 2018 and 2022 bids and will report back to Fifa following this month's World Cup Finals in Brazil. However he won't take account of the millions of documents unveiled by the Sunday Times because they appeared "too late".
Sepp Blatter, 78, Fifa president since 1998, has yet to comment on the fresh allegations. The former PR man for a Swiss watch manufacturer was groomed by the previous Fifa President, Brazilian João Havelange. Havelange was later disgraced when it emerged he had taken bribes from a sports marketing company. Despite calls for the 2022 bid to be re-run and for Blatter to resign, the Fifa president remains defiant: next week he is expected to announce his intention to stand as president for four more years, to 2018.