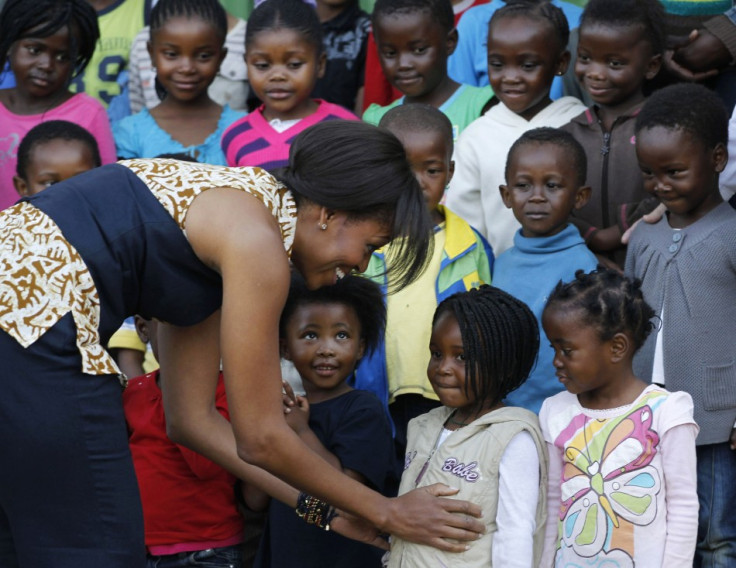 First Lady Michelle Obama urged young Africans on Wednesday to fight for women's rights and battle the stigma of AIDS while using her husband's "yes, we can" campaign slogan to try and motivate youth across the continent.
Mrs Obama is on her second solo trip abroad as first lady to promote issues such as education, health and wellness. In her speech, to a group of young women and men at Regina Mundi Church, which played a role in South Africa's anti-apartheid movement, the first lady touched on much harder topics: race, discrimination, democracy, and development.
Recently, Michelle Obama has been seen in a lot of high profile visits to highlight and discuss issues related to education, health and woman and children's rights.
In South Africa, she drew on the leaders of the anti-apartheid movement in South Africa and the civil rights movement in the United States as an example for the younger generation to follow.
"It is because of them that we are able to gather here today...It is because of them that I stand before you as First Lady of the United States of America," she said to applause.
"That is the legacy of the independence generation, the freedom generation. And all of you - the young people of this continent - you are the heirs of that blood, sweat, sacrifice, and love."
Obama appeared visibly moved when the audience stood and sang an impromptu serenade as she approached the podium. Placing her hands over her heart, she thanked the crowd and seemed to choke back tears.
She spoke passionately about women's rights, saying the young leaders should ensure that women were no longer "second class citizens" and that girls were educated in schools.
"You can be the generation that stands up and says that violence against women in any form, in any place, including the home - especially the home - that isn't just a women's rights violation. It's a human rights violation," she said.
"You can be the generation that ends HIV/AIDS in our time, the generation that fights not just the disease, but the stigma of the disease, the generation that teaches the world that HIV is fully preventable and treatable, and should never be a source of shame," she said to applause.
Michelle Obama and her family met Mandela at his home on Tuesday, which drew comparison between her husband and the former South African president as both men were the black president in their countries.
Mrs. Obama used her husband's famous campaign slogan, which helped him win the 2008 presidential election, to urge the audience to follow through on the issues she addressed.
"If anyone ever tells you that you shouldn't or you can't, then I want you to say with one voice - the voice of a generation - you tell them, 'yes, we can."
While this is all very encouraging, very optimistic and very nice, there is always a lot of things one can do in theory but in theory only.
The first lady often uses herself as an example for success and as hard as she must have worked to become a highly successful women, the America she grew up in and South Africa are completely different and do not provide for the same type of opportunities, especially in terms of access to education. The problem in Africa is not that children do not think they can do things; it is usually that their socio-economic positions stop them from doing them at a very early age.
Moreover while the access to antiretroviral drugs is widely and often freely accessible in developed countries, the same cannot be said of developing countries, especially in Africa where most states suffer medicines shortages and even patients who manage to access treatment are left period of times without any medicines.
Perhaps if Mrs Obama was so concerned by the fight against HIV in South Africa then she could have stopped the US administration from reducing for the first time in its seven year history, the PEPFAR fund, a multimillion-dollar AIDS fund. The Treatment Action Campaign, a leading South African organisation, considered the consequences of this decision to so dire for combating the HIV/AIDS pandemic in South Africa that it went as far as writing a letter to President Obama condemning it.
Encouragement and optimism are always good, but the First Lady new position as a defender of the poor, discriminated and abused comes just at the right time. In 2012, the US will go to the poll to choose who will be the next president and while the republican have already slowly kick-started their campaign, the Obamas are now following suit.
The administration is facing various domestic problems and the hope for radical change was so important when Obama was elected that many Americans are now left disappointed in the leader. Maybe both the US president and the first Lady should realise that while pinpointing problems and keeping an enthusiastic and positive attitude is important, what is crucial on the other hand is to actively try and change the situation. While telling young South African that "yes they can", is good, without a much greater and efficient input from the South African government and improved economic situation, they will still face struggle.