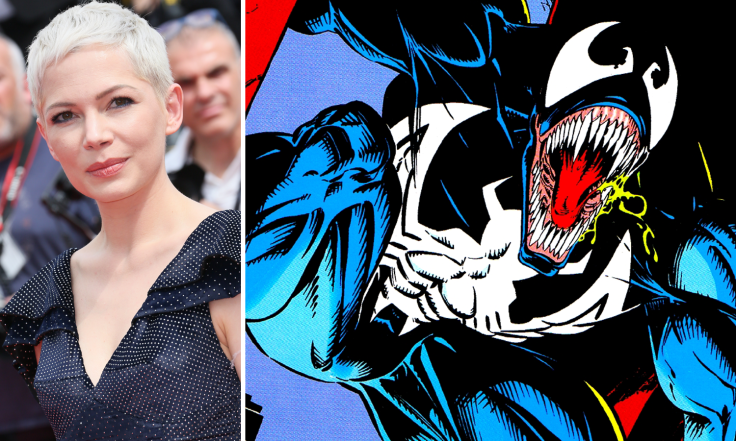 Awards season regular Michelle Williams is in talks for one of the lead roles opposite Tom Hardy and Riz Ahmed in Sony Pictures' upcoming Spider-Man spin-off movie about fan-favourite villain Venom.
Other than Hardy, who will play the title character and alter ego Eddie Brock, character details are being kept under lock and key by the studio, but Ahmed and Williams are top names to have attached to a project with a shaky history.
Sony has set the film, which will be called Venom, a release date of 5 October 2018.
Venom is the name of an alien 'suit' called a symbiote that first attached itself to Peter Parker's Spider-Man in 1984, before splitting off and finding a new host in Eddie Brock, who relished its malicious streak.
As Venom, who debuted in 1988, Eddie and symbiote have toed the line between villain and antihero, often clashing with Spider-Man, but also clashing with Carnage, another symbiote that found a host in psycho serial killer Cletus Kasady.
It had been rumoured that Riz Ahmed might be playing Carnage, but there are conflicting reports. All we do know, courtesy of Variety, is that sources have claimed the Brit will play a "popular Marvel Comics character".
Michelle Williams is best known for her Oscar-nominated work in dramas; Brokeback Mountain, Blue Valentine, My Week with Marilyn and Manchester by the Sea. She has yet to win, but it's really only a matter of time for the talented star.
She has typically steered clear of big budget fare, with her only notable blockbuster being Sam Raimi's Oz: The Great and the Powerful opposite James Franco and Rachel Weisz.
One character Williams could be playing is Anne Weying, Eddie Brock's ex-wife who later bonds with the symbiote to become She-Venom.
Venom is being directed by Zombieland's Ruben Fleischer from a script written by Jeff Pinkner and Scott Rosenberg. No other casting announcements have been made, but with just over a year until the film is due for release, more news should be coming fairly soon.
Confusingly, the film will have no connection to Tom Holland's Spider-Man and the Marvel Cinematic Universe he exists in. Instead it will be set in its own continuity, which Sony hopes to expand with more spin-offs.