Microsoft has been forced to apologise after it was revealed that the computer giant had failed to provide users of Windows 7 a choice of which internet browser to use, flouting a European Union order.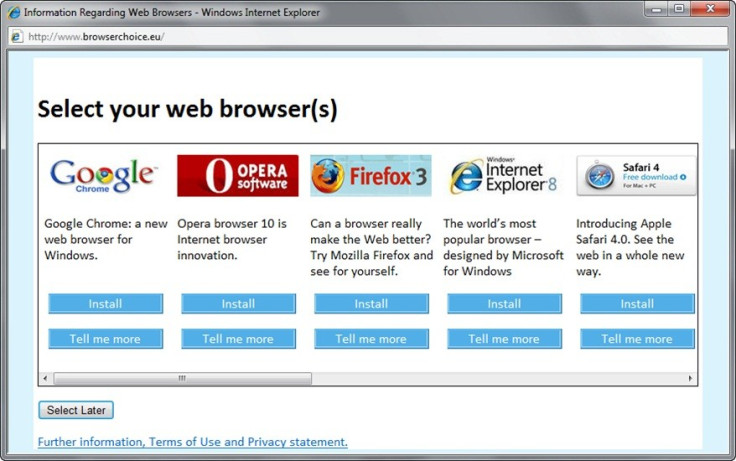 The 2009 order was passed to ensure Microsoft offered Windows users a choice of rival web browsers - such as Firefox and Chrome - instead of just its own Internet Explorer, but the company has not been offering the choice in Windows 7 for over a year.
EU Competition Commissioner Joaquin Almunia said on Tuesday: "We take compliance with our decisions very seriously. And I trusted the company's reports were accurate. But it seems that was not the case, so we have immediately taken action."
The ability to choose from a range of browsers was introduced by Microsoft in December 2009 and was due to run until 2014, but it was not present in the service pack 1 upgrade of Windows 7, and is therefore missing from some 28 million computers, according to an apology published by Microsoft on 17 July.
The apology states that Microsoft has fallen short in its responsibility to offer a choice of internet browsers, adding: "Due to a technical error, we missed delivering the BCS [Browser Choice Screen] software to PCs that came with the service pack 1 update to Windows 7."
It continues: "While we believed when we filed our most recent compliance report in December 2011 that we were distributing the BCS software to all relevant PCs as required, we learned recently that we've missed servicing the BCS software to the roughly 28 million PCs running Windows 7 SP1."
In setting up and agreeing with the 2009 European Union order, Microsoft settled its antitrust case and avoided a penalty which could have been set at up to 10 percent of global turnover, which was just under $70bn (£45bn) for 2011, equating to a potential fine of $7bn.
Microsoft added: "While we have taken immediate steps to remedy this problem, we deeply regret that this error occurred and we apologise for it."
By way of apology to the European Union, Microsoft also offered to extend its compliance period by an additional 15 months, although it is aware that the EU may decide to impose a form of punishment, adding: "We understand that the Commission may decide to impose other sanctions."