Key Features:
Colour touch screen
Adjustable strap
Heart rate monitor
Sleep tracking
UV light sensor
Syncs to iOS, Android and Windows Phone
Price as reviewed: £169.99
---
Microsoft Band Review
---
Fitness-tracking gadgets come in all shapes and sizes. The Withings Activité is a watch that counts steps and measures sleep; the Apple Watch acts as a notification hub and monitors your heart rate. But the Microsoft Band can do an awful lot more; it counts steps, plots runs with integrated GPS, constantly measures your heart rate and calories burned, checks UV light levels incase you need suncream, records your skin temperature, logs your sleep, and can even talk you through a huge number of exercise routines.
It can log your running and cycling too - and then there are its smartwatch features. The Microsoft Band alerts you to text messages, emails, tweets and Facebook messages. You can answer phone calls with it, and of course it tells the time. So is this Microsoft's answer to the Apple Watch, or is it the most complete fitness tracker yet, with smartwatch functions tacked on?
I strapped one to my wrist to find out.
---
Microsoft Band: Design
---
My first impressions of the Microsoft Band were not good. The device is large and chunky and looks like something used to track the movements of a young offender, not a fitness fanatic. It looks nothing like a smartwatch and is not anywhere near as subtle as other dedicated fitness trackers like the Jawbone Up.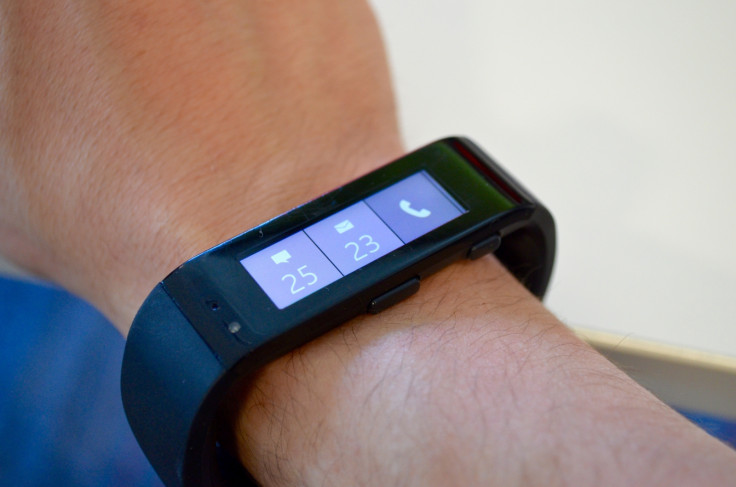 The Band can be worn either with the colour touchscreen display on the inside or outside of the wrist, and although its chunkiness makes it generally uncomfortable, the clasp is a smart and robust way of making the device fit wrists of all size. Not only is it sold in small, medium and large versions, but the clasp is adjustable, giving approximately eight degrees of adjustment to tighten or slacken the Band as required.
As well as the touchscreen, there are two buttons to interact with the band; when worn on the right wrist, these are conveniently placed for access with your left thumb. After a week with the Band I began to get used to its heft but I was never fully comfortable with it. I could not fold my arms without it digging into my wrist, shirt sleeve do not fit around it, and I felt self-conscious about it being exposed to my fellow commuters. It just does not look or feel good and the plastic screen was covered in scratches after just a few days' use.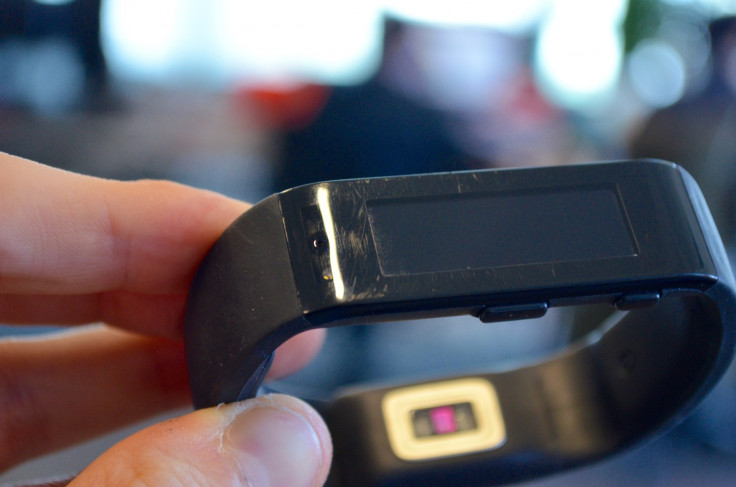 But looking good and being an ergonomic dream are not the main points of focus for the Band. Yes, you can read tweets and Facebook messages - and even answer calls if synced over Bluetooth to a Windows Phone device - but really the emphasis here is on fitness tracking.
I quickly realised this is not a device to wear all of the time; it is something to put in your gym bag, wear when you need it and be a means of checking phone notifications without stopping your run, bike ride or fitness class.
Treat the Band as your personal trainer, do not worry about wearing it in the office all day, and it starts to make a lot more sense.
---
Microsoft Band: Software
---
The Band's user interface is a series of tiles that you scroll through by swiping the touchscreen. These can be modified via the companion app that connects the Band over Bluetooth to any recent iPhone, Android or Windows Phone handset - although calls and Cortana voice controls are only possible when connected to the latter.
You can set the display to either come on when you press a button, or to show the time permanently; there is not an option to have the screen light up when you raise your arm, like on most smartwatches.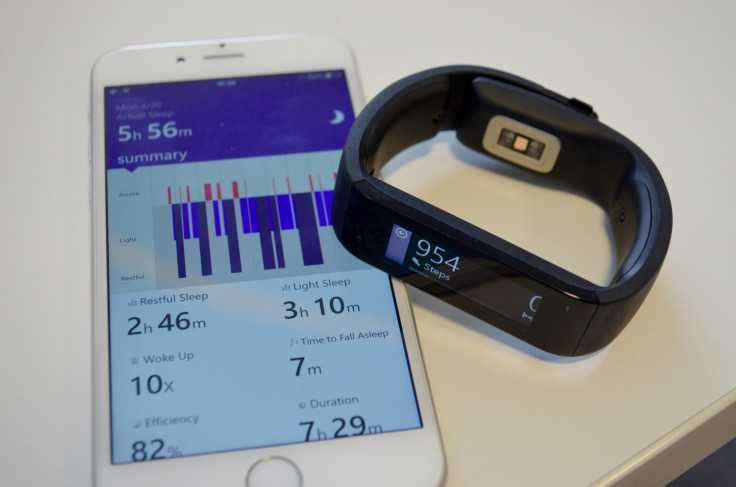 Your total steps for the day and the time are shown first, then all other tiles are lined up to the right; these include unread texts and emails. missed calls, calendar events, Facebook messages and tweets, and this is also where you access the weather forecast, ambient UV light, plus where you control the sleep and exercise-tracking functions.
Tap the running or cycling icon, press the action button and away you go. Press the button again when you are finished and the Band says how long your body will take to recover; data collected is sent to the iPhone app where your movement, heart rate and calories burned can be saved and analysed. The Band checks your heart beat every few minutes all day and night, but increases this to almost constant monitoring when you exercise.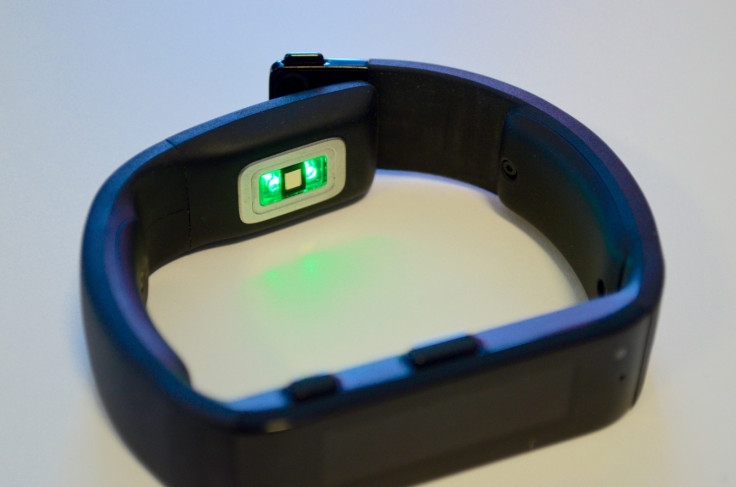 One criticism I have of the Band's software is the time it takes to sync to the smartphone app. Syncing it to my iPhone took around 10 minutes of trial and error on a commute one morning; I later discovered the Band needs an internet connection to sync, and not just Bluetooth, so transferring last night's sleep data on the Underground was not possible.
---
Microsoft Band: Notifications
---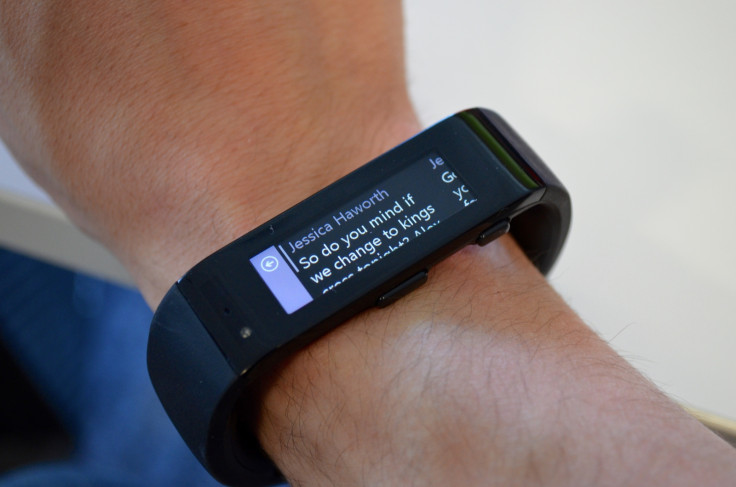 Although not a smartwatch in the same way the Apple Watch is, the Band can handle notifications sent from your phone. The Band vibrates to signal incoming texts and shows a preview on the screen.
You can scroll through the message to read it - which is not actually as bad as you might think on such a small screen - but messages over a certain length are not shown in full, so often I would have to use my phone to read the rest. This is fine for quickly checking a text or email without interrupting your exercise too much, but it feels like something of an unfinished afterthought.
---
Microsoft Band: Fitness tutorials
---
A neat feature of the Microsoft Band is the apps enormous catalogue of exercise routines for you to download and follow. Organised by type - running, bodyweight, strength - there is everything from half-marathon training and sprint training, to fat burning, weight building and routines specialising on every muscle group.
Pick a routine and download each week's plan to the Band. Then, when you start a run or workout it will instruct you what to do and when to move to the next part of the routine. There are video tutorials for every step of every routine, streamed from Microsoft to the phone.
Where the Withings Activité and others recognise running, cycling and sleeping automatically, the Band needs to be told. This is fine for starting exercise, but I sometimes forgot to tell it when I went to bed and when I woke up; it is a shame that this is not automated.
---
Microsoft Band: Battery life
---
Microsoft says the Band will last for two days between each charge. That is a day more than the Apple Watch and quite a lot considering the many sensors constantly analysing you and your surroundings. I found two days of light use, with the time not displayed, to be just about possible. But leave the time on permanently, receive many notifications, and two days quickly falls to one, so nightly charging is recommended.
---
Microsoft Band: Verdict
---
The Microsoft Band is the most feature-loaded wearable yet. It tracks every aspect of your fitness and is the perfect workout companion to help you get the most out of your gym membership. Constant heart rate tracking is a bonus over most other wearables, while the exercise tutorial list is as comprehensive as it is informative. My only complaint with the Band's fitness tracking is a lack of automatically knowing when you are running or sleeping.
But there is just too much going on here. Notifications are poorly implemented, with longer messages and emails impossible to read in their entirety, and the Band does not know when they've been read on your phone - so the message icon will say 28 or 36 or whatever until you go into that tile and tell the Band you have read them.
These are small, niggling faults compared with the ergonomic issues. The Band is terribly uncomfortable most of the time, forcing me to suggest buyers only wear it while exercising. It is less of a life tracker and more of a pure fitness tracker, to be used in the gym and on runs but left in your bag the rest of the time.
Microsoft Band Scores
Design and ergonomics: 4/10 - Ugly and uncomfortable, Microsoft really missed the mark here
Build quality: 7/10 - Feels sturdy, well made and as if it could survive many gym sessions. Shame about the easily-scratched screen, though
Software: 8/10 - Bags of information is displayed clearly on app and Band, but there are issues with synching and notifications
Battery life: 7/10 - More than most smartwatches, but still struggles to complete two full days with a night of sleep analysis in between
Features: 9/10 - It does pretty much everything you could ever want a fitness tracker to do
Overall: 6/10 - Masses of features does not always mean a runaway success. The Band does everything, but it is ugly and uncomfortable - and for something meant to be worn all day and night, that is unacceptable. Roll on version 2...
The Good:
More sensors than you can shake a selfie stick at
Accurate sleep and step tracking
Comprehensive catalogue of exercise routines
The Bad:
Ugly
Uncomfortable
Not fully waterproof
Expensive for a fitness tracker