No current Windows Phone device will be able to upgrade to the new Windows Phone 8 operating system when it is released in the autumn.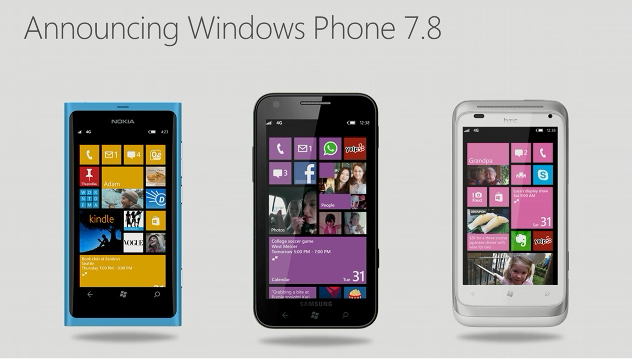 Instead, current Windows Phone customers will get an update from the 7.5 version of the operating system to a new build, 7.8.
Windows Phone 7.8 will be delivered directly to all Windows Phone users, bypassing the carriers. Users will be able to download and install Windows Phone 7.8 over Wi-Fi.
The update will feature the new home screen as seen on WP8, with its highly customisable tiled interface allowing users to adjust the size of every tile and have as many or as few as they like.
Tiles can be three different sizes, can be positioned wherever you like, and are all live and constantly update automatically with new information.
Any app can be made into a large tile to fit in more information and there's also a range of new colour schemes to make your phone truly unique.
Making the phone personalised and tailored to the user is a point that Microsoft is keen to emphasis, and showed a lengthy list of fictional characters who had customised their phones to meet their interests and occupations.
Microsoft hasn't yet announced a release date for Windows Phone 7.8, but has said that it is currently in talks with handset manufacturers with regard to testing the update.
WP8 itself will be released sometime in the autumn, so we would expect the 7.8 update to appear around the same time.
The 7.8 update with its improved home screen will come as little consolation to customers who have bought a Windows Phone will miss out almost completely on the operating system's first major update.
IBTimes UK also wonders what effect this news will have on sales of Windows Phone 7.7 handsets in the coming months, as potential customers will surely be put off from buying a phone that they know will never be updated further than 7.8
There may well be a dip in sales now in anticipation of WP8 smartphones coming out, as was the case when customers waiting for the iPhone 4S last year instead of buying a 4 when they knew the update was imminent.
Must read: Microsoft Shows Off Windows Phone 8 With 'Shared Windows 8 Core' and Mobile Wallet