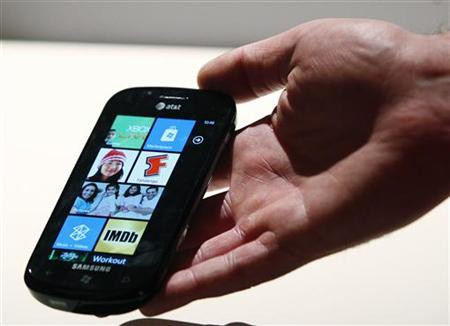 In a statement today, Microsoft revealed the next version of its Windows Phone operating system.
Neatly titled Mango and set for release later this fall, Microsoft promised consumers that the Windows Phone OS's newest version "will deliver more than 500 new features to push the boundaries of the smartphone experience around communications, apps and the Internet."
As well as promising to come pre-loaded on a slew of new smarphones -- none of which have actually been named yet -- the new version of Windows Mobile will reportedly be available as a free download to all current Windows Phone 7 customers.
Chief among the OS's updated features will be the inclusion multi-tasking, a feature sorely lacking in the previous version. The new version will reportedly catch up with its Android competitors allowing users to run several apps and programs on their smartphone simultaneously.
The new OS will also offer support for additional languages. Thus far the company has promised added support for Brazilian Portuguese, Simplified and Traditional Chinese, Czech, Danish, Dutch, Finnish, Greek, Hungarian, Japanese, Korean, Norwegian, Polish, Portuguese, Russian, and Swedish.
Additionally, in its new statement Microsoft promised several additions to the Windows "ecosystem" and app store, "Mango will further expand and strengthen the Windows Phone ecosystem through new partnerships with Acer Inc., Fujitsu Ltd. and ZTE Corp., which today announced plans to deliver new Windows Phone devices in markets around the world."
The press release also promised several new features, intended to improve the uses experience when connecting to social networking sites such as Facebook and Twitter.
The new OS version is set to house a "Threads" and "Groups" system that will allow users to "Switch between text, Facebook chat and Windows Live Messenger within the same conversation", while placing specific contacts into, "personalized Live Tiles to see the latest status updates right from the Start Screen and quickly send a text, email or IM to the whole group."
The new contact card system is also set to add both Twitter and Linkedln integrated feeds.
Mango will also reportedly focus on improving the user's experience surfing the internet and app store. Mircrosoft has already confirmed phones running the OS will come pre-loaded with Microsoft Internet Explorer 9 and Bing search engine integration.
Already dubbed "Windows 7.5" by numerous tech sites and blogs, whether the version will prove enough to reverse the OS's ailing fortunes remains to be seen. As it stands, since its launch the smarphone operating system is yet to command even a ten per cent share of the market. But with Microsoft's recent deal with Nokia still fresh and Microsoft's pockets as deep as they are, a rise in the OS's popularity certainly isn't beyond the realm of possibility -- it is just very unlikely.