In a bid to appease gamers angry at the high price of the Xbox One, Microsoft has announced all pre-orders of the console will get a free digital copy of the FIFA 14.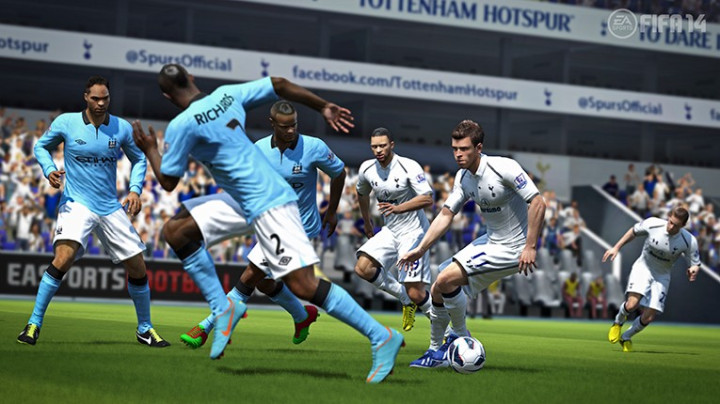 The deal is open to all those who order the console in Europe before Chrismas, including those who have already placed their order. Microsoft announced the news at the Gamescom gaming conference taking place in Cologne this week, and offering the popular sports games for 'free' will be seen as a way of enticing people to choose the Xbox One over its cheaper rival from Sony, the PlayStation 4.
Microsoft is playing catch-up following a problematic launch of its Xbox One console which is priced at £429, which is £80 more that the PlayStation 4.
Both consoles are due for release in November, but Microsoft gave liitle away in terms of a specific launch date during its press conference on Tuesday.
As well as announcing the FIFA 14 deal, Microsoft announced a new European bundle which will feature the new Call of Duty: Ghosts game, including bonus content which will be only available to Xbox One owners. Pricing details of the bundle are yet to be announced but Microsoft has said it will only be available at GAME store in the UK.
Exclusive content
Microsoft also revealed a range of AAA titles will be getting exclusive content not availble on the PlayStation consoles. These include FIFA 14 which will see gamers able to take control of an Ultimate Team which features legendary players like Pelé, Patrick Vieira, Freddie Ljungberg, Ruud Gullit, and Gary Lineker.
Call of Duty: Ghosts on the Xbox will also feature exclusive content including a new multiplayer mode called Blitz, with full details of the bonus content to be revealed later this week. Finally Ubisoft has announced that Xbox One owners will get special bonus material in its online multiplayer title called The Division.
Apart from revealing updates to existing titles, Microsoft announced two new games for the next-gen console - Fable Legends and Cobalt.
Fable Legends, created by Lionhead Studios, is the latest in the RPG series with new features such as four-player co-operative mode and the ability to play as the enemy using the SmartGlass app to direct your forces against the main protagonists.
Cobalt is the latest game from the Majong, creators of Minecraft, and is set to be a 2D-platform shooter which supports multiplayer mode of up to eight players.
Self-publishing
Microsoft also took time at the press conference to talk more about its Independent Developers @ Xbox (ID@Xbox) programme which will help support smaller indie developers publish their games on the Xbox One, with events, forums and technical advise. Once published these games will appear in the Xbox One Store for download.
Initally indie developers were angry at Microsoft when it was reported they would not be able to self-publish on the console, but like its DRM restrictions, the company has since back-tracked on these proposals.
The programme will give indie developers as much access as AAA developers are used to, including access to the full capabilities of the console, cloud services, Kinect and the Xbox Live toolset such as Xbox SmartGlass, multiplayer, Achievements and Gamerscore.
Microsoft has also announced its offical list of 22 launch titles for the Xbox One:
Assassin's Creed IV Black Flag

Battlefield 4

Call of Duty: Ghosts

Crimson Dragon

Dead Rising 3

FIFA 14

Fighter Within

Forza Motorsport 5

Just Dance 2014

Killer Instinct

LEGO Marvel Super Heroes

Lococycle

Madden NFL 25

NBA 2K14

NBA LIVE 14

Need for Speed: Rivals

Peggle 2

Powerstar Golf

Ryse: Son of Rome

Skylanders: Swap Force

Watch Dogs

Zoo Tycoon

Zumba Fitness: World Party