The people of China, Germany and the UK have been ranked as the most welcoming to refugees in the world, according to a study by Amnesty International. The global survey of 27,000 people across 27 countries also saw two thirds say their governments should be doing more to help refugees.
The study ranked nations on how willing they were to welcome people fleeing conflict or persecution. The study found 80% of people would welcome refugees with open arms into their country, city or neighbourhood.
One in 10 said they would take a refugee into their own home, with the figure rising to 46% in China and 29% in the UK. China topped the overall Refugees Welcome Index, while Germany and the UK appeared second and third respectively.
Residents in Russia, Indonesia and Thailand appeared at the bottom of the index, with Poland being the worst-performing country in the EU.
Amnesty International Secretary General, Salil Shetty, said: "These figures speak for themselves. People are ready to make refugees welcome, but governments' inhumane responses to the refugee crisis are badly out of touch with the views of their own citizens."
There are currently an estimated 19.5m refugees in the world, with 86% hosted by developing countries. Conflict in parts of the Middle East and Africa has sparked a refugee crisis in Europe with about 1m migrants and refugees entering the continent in 2015.
People in several countries which have already accepted large numbers of refugees show no signs of flagging acceptance, with Greece and Jordan joining Germany in the top 10 of Amnesty's index.
In Germany, which received 1.1m asylum seekers in 2015, some 96% said they would still accept refugees into their country. This figure was 86% for Greece, which has born the brunt of the crisis in the EU as desperate families attempt to cross the Mediterranean Sea to reach the continent.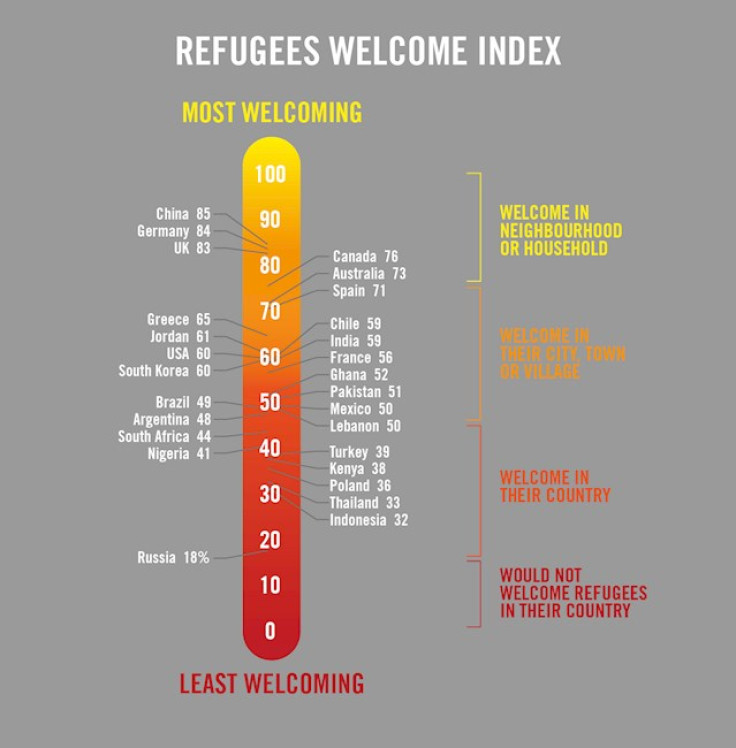 "We did not expect to see such strong levels of solidarity with refugees, but the results reflect the inspiring human compassion people feel to those fleeing war," Shetty said. "They want to do what they can to help, not turn their backs. Politicians need to show the same spirit."
People in the UK – whose government has agreed to accept 20,000 from refugee camps over the next five years – are the second-most willing to make refugees welcome in their own homes (29%). The vast majority of people in the UK (87%) say they would let refugees into the UK.
But less than half of those surveyed said they would accept refugees into their own neighbourhood.
In Russia and Indonesia, just 1% of people said they would accept people fleeing war or persecution into their home. Two thirds of Russians surveyed said they would even turn refugees away should they try to enter their country.
Amnesty International is calling on governments to resettle 1.2m refugees by the end of 2017. The group is also calling for governments at next week's World Humanitarian Summit in Istanbul to address a $15bn shortfall in humanitarian funding and commit to "a new, permanent system for sharing the responsibility to host and assist refugees".