Coastguards based in the English Channel have rescued six possible migrants from an inflatable dinghy. The men were reportedly stranded on a sandbank between Dover and Calais during the early hours of the morning on Thursday (25 August).
The alert was raised at about 5.40am GMT and a search-and-rescue helicopter from Lydd, Kent, flew to the scene along with HMC Valiant, a UK Border Force vessel.
The dinghy was stuck on the Varne sandbank when the rescue services were scrambled. The men have not yet been identified and their country of origin is unclear. A Border Force spokesman said: "Six men were recovered from the boat and are due to be interviewed by Border Force officers."
The incident comes amid concerns that the UK's 7,000 miles of coastline are inadequately protected from human trafficking. There are currently only three boats available and Dover and Deal MP Charlie Elphicke has called for the Royal Marines to patrol the narrow straits. "Security in the English Channel is not strong enough," Elphicke told Kent Online.
"There is a rising threat from people-trafficking by yachts and small boats. Dover and Deal has a long and proud history of association with the Royal Marines. The New Dover Patrol should be led by the Marines as they have great expertise in countering people-trafficking and attacks on shipping around the world."
Thousands of migrants remain camped around Calais and many have attempted to reach the UK, sneaking onto lorries, hopping trains and even walking through the tunnel. Many have died while attempting to cross and people smugglers have taken advantage of their desperation, offering to take them across the Channel - one of the world's busiest stretches of water - at a cost of up to £13,000.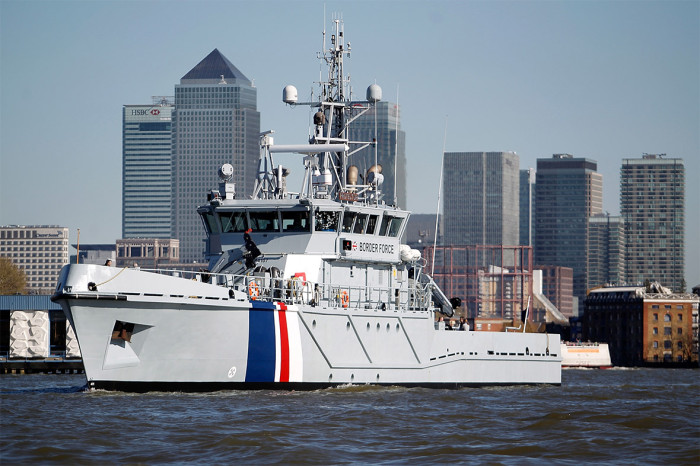 A House of Commons report into the crisis said lives were being put at risk by the trade. The report warned: "There is a potential threat to UK security, and the ongoing challenge to migration controls which this aspect of illegal migration presents remains of serious concern to us."
In May 2016, 17 Albanians were seized from a catamaran at Chichester marina in West Sussex. The owner of the vessel, Briton Stephen Jackson, 50, was jailed for four years and nine months for people smuggling, according to the Chichester Observer.