Two of boxing's biggest names, Miguel Cotto and Saul 'Canelo' Alvarez, collide in one of the fights of 2015 on Saturday 21 November in Las Vegas.
How to watch
Cotto v Canelo is available live in the UK via BoxNation. Their broadcast begins at 12am with the main event scheduled for around 3am.
Overview
Boxing has a habit of overcomplicating things. The decision this week that saw Cotto stripped of his WBC middleweight championship just days before Saturday's fight was another fine example of that happening at the top level. The battle-scarred 35-year-old refused to pay the World Boxing Council (WBC) a sanctioning fee for the fight, something the governing body saw as a failure to "comply with the WBC rules and regulations."
Cotto hit back at such accusations, suggesting he and his camp were being extorted. "We have to pay for their mistakes," he hit back. "This is not fair to me. The WBC told me my offer was not reasonable to them. It was all about money."
Amid all the reports and accusations, the bottom line is Cotto will enter the ring on Saturday night as lineal champion. The WBC middleweight title is officially vacant and only Alvarez can leave with the belt.
But that will not count for much when the bell rings. With Floyd Mayweather Jnr gone and Manny Pacquiao not far behind him, there is no bigger fight in boxing right now, other than perhaps the winner going on to to face the unstoppable force of Gennady Golovkin. It pits two of the sport's finest against each other in another chapter in the compelling history of huge fights between Puerto Rican and Mexican fighters.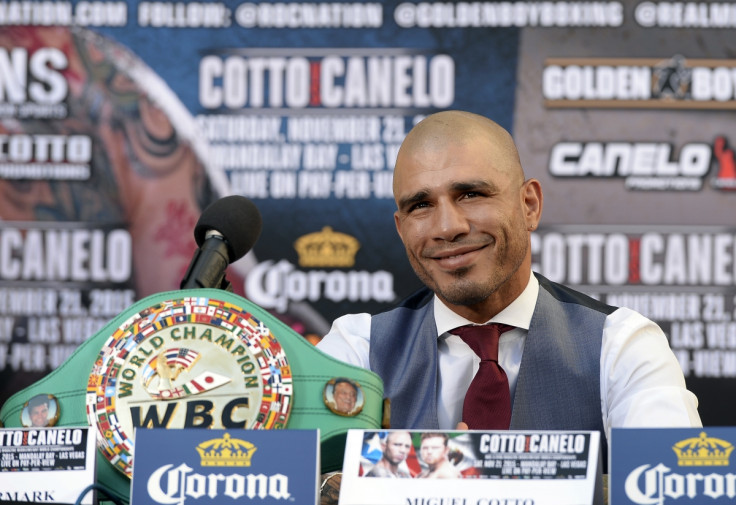 Since back-to-back losses to Mayweather and Austin Trout in 2012, Cotto has enjoyed a revival, aligning himself with trainer Freddie Roach who has helped the veteran get back to his destructive best. Like Saturday's opponent, Alvarez was also stopped by Mayweather. Then a 23-year-old, the Mexican was tipped to go on and dominate his division if he could edge past the American. Instead, he was dominated, perhaps confirming fears that the fight came too early for him. While he has since recorded wins over Alfredo Angulo, Erislandy Lara and James Kirkland, a win over Cotto, a man vastly more experienced when it comes to clashing with the best, would be a colossal statement from the 25-year-old.
Unlike Mayweather vs Pacquiao, this is a fight that is almost guaranteed to deliver. The styles of the two men against the backdrop of the Mexico vs Puerto Rico rivalry that has inspired so many fascinating bouts is a dynamic more important than any title. Some fights fail to live up the 'Fight of the Year' label hastily stuck upon them. This shouldn't be one of them.
What they said
Miguel Cotto: "Boxing is the only thing I know to do in life. I've been working for the benefit of my family. I said before that I'm going to retire myself. I am 35 years old. I plan to be in boxing no longer than a year from now.
"I don't want to be in the sport for that much longer. I see two or three more fights and that will be all. This win will probably be the biggest victory of my career, but at the end of the road it's just going to be victory No. 41 for me."
Canelo Alvarez: "Ever since we started camp, my focus has been to beat Miguel Cotto. With or without a title, I'm going to beat Miguel Cotto.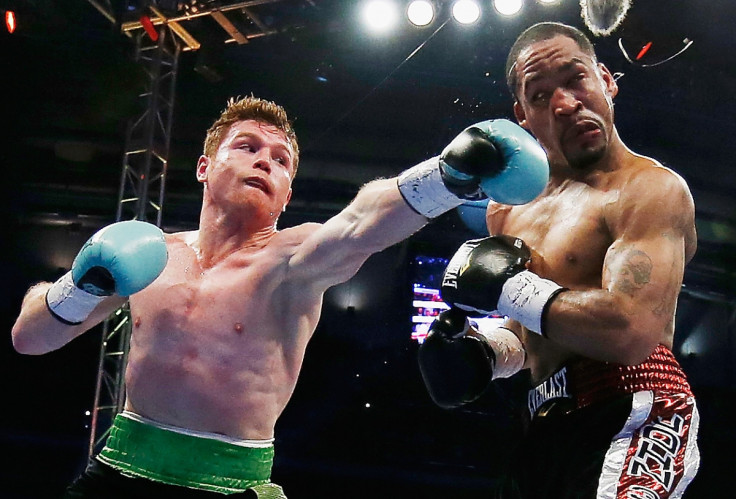 "Too many fighters worry about that '0' – being undefeated. They don't take the risks. I prepare for that – I love the risk, I love the challenge and I train for that.If you want to be great, you have to dare and that's how you do it; by fighting the best."
Records
Miguel Cotto – 40 wins (33 knockouts), four losses
(W) Daniel Geale – technical knockout – June 2015
(W) Sergio Martinez – referee technical decision – June 2014
(W) Devlin Rodriguez – technical knockout – October 2013
Canelo Alvarez – 45 wins (32 knockouts) 1 loss, 1 draw
(W) James Kirkland – knockout – May 2015
(W) Erislandy Laea – split decision – July 2014
(W) Alfredo Angulo – technical knockout – technical knockout
Prediction
Miguel Cotto wins via technical knockout – the Mexican is a warhorse of modern boxing, having tangled with the best of his generation. That experience could prove decisive.
Rest of the card
Takashi Miura vs Francisco Vargas – WBC world super-featherweight championship
Celestino Caballero vs Lee Haskins – IBF world bantamweight championship