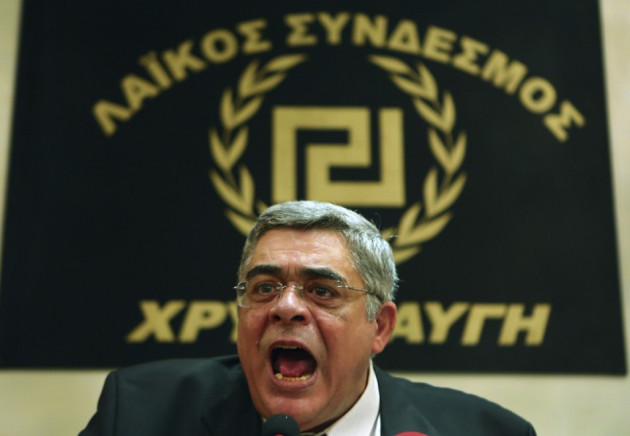 The neo-Nazi Golden Dawn party in Greece has threatened to pull all of its MPs out of parliament in a move that could threaten the stability of the coalition government.
The group's leader, Nikolaos Mihaloliakos, said that pulling out was one of several strategies he was considering in response to a police crackdown after a self-declared Golden Dawn sympathiser was charged with the murder of leftwing rapper Pavlos Fyssas, aka Killah P.
"We have not reached a final decision yet. All options are open," Mihaloliakos said on Vergina TV.
Golden Dawn has 18 MPs who were elected on an aggressively nationalistic and anti-immigrant platform in areas devasted by the country's recession.
Their withdrawal from parliament would be likely to trigger a series of by-elections in key districts and shattering the precarious coalition government at a time when political stability is regarded as vital for the continued implementation of the financial bailout.
Prime minister Antonis Samaras's party holds 155 seats in the 300-seat parliament. The hard-left Syrzia party, which opposes the EU-IMF bailout, is tied with Samaras's conservatives in the polls.
"Golden Dawn holds a weapon in its hands to cause a political earthquake. Those in charge should bear that in mind," said Mihaloliakos.
"If the country enters a destabilisation spiral, Golden Dawn will not be guilty but [it will be] those who demonise Golden Dawn and beat it in such a dirty and illegal manner," he said.
Government spokesman Simos Kedikoglou ruled out suggestions that a snap general election would be called if Mihaloliakos carried out his threat.
A constitutional expert said that the announcement was a sign of the desperation of Golden Dawn. The move would be political suicide, he said.
"If its lawmakers resign and by-elections are held it will find itself outside parliament," Stavros Tsakirakis, a professor of constitutional law at Athens university, wrote in the Ta Nea daily.
A senior official told Reuters that investigators had found enough evidence to charge Golden Dawn with being a criminal organisation. Reportedly, three of the party's MPs are reportedly implicated in the investigation.