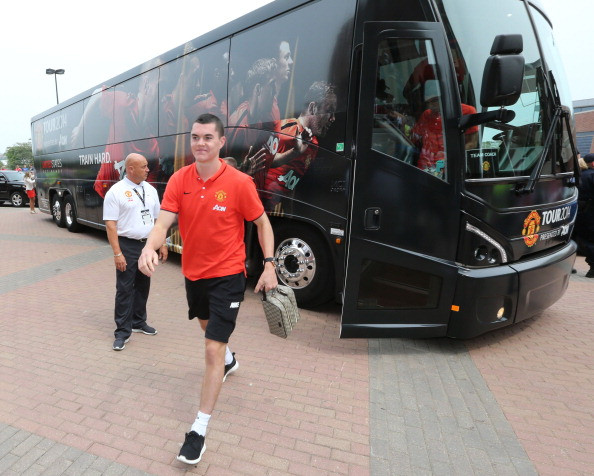 Manchester United starlet Mike Keane believes Louis van Gaal will be positive for the Old Trafford academy players as the Dutch boss has never had "any problems throwing young players into big games."
Van Gaal has been credited during his long successful career with fostering new talent, having handed both Andres Iniesta and fellow midfielder Xavi Hernandez their debuts at Barcelona while winning a Champions League crown with a youthful Ajax.
The new Manchester United manager looks set to replicate his methods at Old Trafford as he already gave both Tyler Blackett and Jesse Lingard the opportunity to impress in the Premier League opener defeat against Swansea on weekend.
"I don't think the manager has any problems throwing young players into big games," Keane said to Manchester United official website.
"He showed that on tour and in the first Premier League game. It is good to be around and you know that if he needs a player to call up then he is not frightened to put a young player and that is good."
Keane hopes now to follow the footstep of his teammates after being part of the United States pre-season tour alongside Blackett, Lingard, Ben Amos, Sam Johnstone, Reece James and Will Keane.
"When you see people like Tyler and Jesse making their debuts at the weekend, it just goes to show that things can happen so quickly. One minute you are playing in the Reserves and the next minute you are making your Premier League debut, so you have to be ready for it whenever it comes and make sure you take your chance.
"It has been good because Ryan [Giggs] obviously knows what all of the young players are like from the last couple of years and he knows our histories. He has obviously told the manager about us and he talks to us a lot in training, which is a massive help. It has been really good working with Ryan."
Furthermore with the new 3-5-2 formation, Keane believes his chances of breaking into the first team could be increased.
"There are three centre-backs instead of two so I have more chance of playing. I think it suits us as well. Playing on the right side of the three, you always have quite a lot of options on the ball which is good and you have the license to bring it out if you have the chance. I have been enjoying playing there. Obviously we can still improve at it but I think it is going well so far."