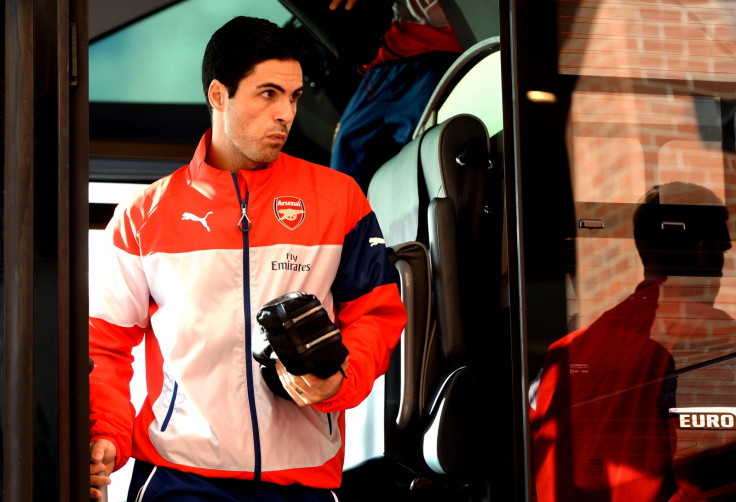 Arsenal captain Mikel Arteta has revealed that he was flattered by Per Mertesacker asking him to lift the trophy alongside him following the Gunners' record 12th FA Cup win at Wembley on 30 May.
Goals from Theo Walcott, Alexis Sanchez, Mertesacker and Olivier Giroud secured their second successive FA Cup win and Arsene Wenger's sixth in his career with the Gunners, making him the most successful manager in the post-Second World War era.
Arteta was out with injury for a major part of the campaign, for which he could not feature in the FA Cup, but Mertesacker, who deputised on his behalf urged him to lift the trophy on the grandstand, showing solidarity and togetherness among the players in the dressing room.
The Spaniard revealed that he did not want to lift the cup as he had not played an active part in the competition, but his words fell to deaf ears as the entire Arsenal team rang around the Wembley in jubilation of their latest triumph.
When asked about his reactions on lifting the trophy for the second time in as many years, he told Arsenal's official website, "It's really good. I didn't want to do it but Per asked me to go up there with him. I thought it was his day and an opportunity for him to get that feeling that I had last year with the Community Shield. I'm really proud and really grateful. It's a happy day and the best way to finish the season. "
"To repeat this is not easy at all, so I have to congratulate the players, staff and all the fans here because they've been superb. We watched a really nice final because we were top [quality]," he added.
The Gunners will now be looking to take the next step and challenge for the title, which they last won in 2003/04, which incidentally came after the year they retained the FA Cup.