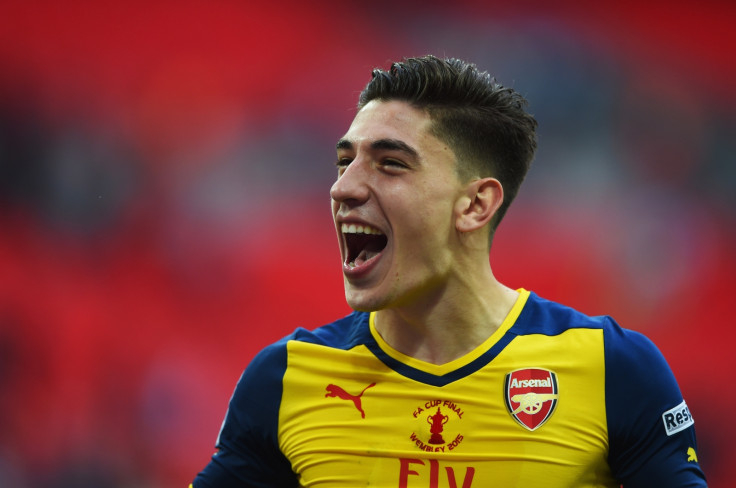 Arsenal captain Mikel Arteta believes Hector Bellerin's bravery has let him go from being an academy star to Arsene Wenger's pick for the right-back role in just a year. Having moved to the Emirates Stadium in 2011 from the prolific Barcelona youth system, the 20-year-old defender started the last campaign as the third-choice right-back following the additions of Mathieu Debuchy from Newcastle United and Southampton youngster Calum Chambers.
But the Spaniard took advantage of Debuchy's injury earlier in the 2014-15 season to earn his debut in the Champions League tie against Borussia Dortmund before establishing as the first-choice right-back for the remaining of the campaign. Some may have thought the France international would regain his role in Wenger's defence in the current campaign but Bellerin has managed to keep his place in the line-up.
Arteta is not surprised about his compatriot's progress but urges him not to give up in his battle with Debuchy in order to improve even further this season.
"He had that perfect development. He was in the first team but he had some difficult games to start with, like when we played Dortmund and Stoke away last year. He realised it wasn't that easy and then he was left out for a while. He started to build his game, his confidence and naturally he's become a first choice," Arteta told Arsenal Player.
"Everybody knows that he's got the technical ability. Physical he's very quick and mentally he deals with situations and sometimes that's the most important thing. After a very good first season, he needs to prove himself again. He needs to prepare mentally because now people are going to be expecting things from him.
"It tells you about his personality. He doesn't care –Mathieu is a French international but he wants to compete as well and he wants to earn his place. He's very brave in the way he plays.
"I think that's what people like – he takes people on, he makes runs, he goes forward and he's not afraid of anything. Football is a long run. It's not about the next few months, it's about being consistent and at that level for a long time. Mathieu is going to put pressure on him and it's going to be good for both of them."
Arteta has failed to establish himself in the Spain national team but believes Bellerin has what it takes to do it in the coming years. Real Madrid star Dani Carvajal and Atletico Madrid's Juanfran are currently the right-back choices for Vicente del Bosque but the Arsenal captain believes Bellerin is as good as anyone.
He said: "I knew two years ago that he had the ability to be first choice at Arsenal and I can't see any better right-backs in the next two years in Spain. I know Hector and if he makes the right decisions in the next few months, I think he's going to have a chance."