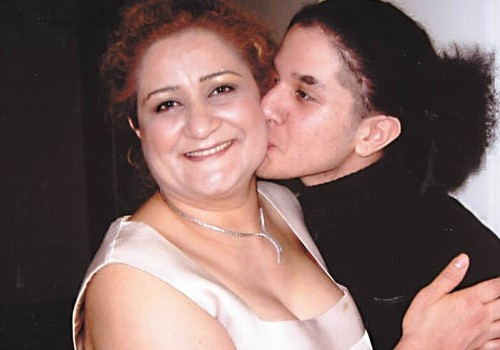 The mother of a boy who was stabbed to death in Kilburn has sold her valuable jewellery in order to treat her son's murderers when they are released from prison.
Fatemah Golmakani, 56, who lives in Swiss Cottage, has vowed to treat the four boys who were found guilty of murdering her son, Milad Golmakani, to "show them what life is really about".
She also hopes to set up a charity, The Milad Trust, in her son's honour after he died of 14 stab wounds that he received on a sports pitch in April 2011.
She told the Camden New Journal: ""What these men didn't realise was that when they murdered my son, all their hopes and dreams were buried in Milad's grave with him.
"Because they can't just go and visit their girlfriends while they're in prison, they can't go to a party, see their friends, play games.
"All that went away when they killed my son.
"So really, when we buried Milad, we buried these murderers too.
"Milad sleeps in peace, but there are four human wishes lying there with him. They weren't born murderers.
"I have been thinking a lot and I can't bring my son back, but I do want to unmask the killers.
"I want to take the mask that makes their faces look like murderers and lift it up and say: 'No, look, that's not really you, you have this other face underneath.'
"That way, maybe, if they are out on the streets eventually, they won't hurt another mother like this."
The four found guilty of Golmakani's murder were 19-year-olds Sean "Jack" Hutton, of Kentish Town, Sean Ferdinand, from Chalk Farm, Mohammed Hashi, from Enfield, and 17-year-old Lij McSween, from Maitland Park.
All four had denied involvement in the knife crime. McSween was sentenced to 19 years and the other three were each jailed for 22 years.
Golmakani said: "I have thought that these boys... were the boys who had no presents as children, they are the boys who have no money for the bus so they try and get on without the driver seeing, they're the boys who everyone gave up on in school and now they sell drugs for how much? Under £200 a week maybe?
"Then they went home and had problems there. All they know is the estate and the street.
"What do I want to slap their faces for? It's what they've had their whole lives and that's why they slap back, and they kill.
"Maybe if I hug or kiss, it will wake them up? How else do you make a noise that the humans inside the murderers will hear, and finally come out?"