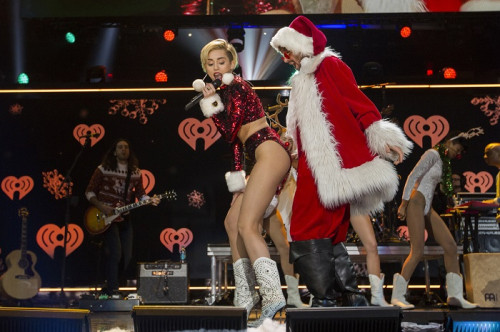 Singer Miley Cyrus has imposed a ban on twerking during her 59-day Bangerz tour. Cyrus reportedly feels that the controversial dance move overshadows her actual talent.
"Miley is well aware of the controversy that her twerking caused last year and while she is not at all regretful of it, she doesn't want it to define her concerts. She has written the show herself, it's like a play and it has a theme but more than anything Miley wants the world to see that she can actually sing," sources closes to Cyrus said.
"Since June, when twerking became infamous, Miley doesn't feel that she has always been portrayed as a serious artist but someone who just bends over and behaves in a raunchy manner. She thinks her raw talent has been overshadowed by this and wants to put it right," the source was quoted by The Mirror.
Meanwhile, the twerk - has made it to the list of words added to the Oxford Dictionaries Online. The definition, , reads: "The twerk, v.: dance to popular music in a sexually provocative manner involving thrusting hip movements and a low, squatting stance."
This particular dance move has garnered significant publicity over the past few months, following the singer's performance during the 2013 MTV Video Music Awards (VMA). Cyrus was widely criticised for a provocative performance in a skin-tight, flesh-tone costume that included very suggestive displays of "the twerk".
In an interview with the New York Times, she admitted that people thought of her as a sort of "sex freak".
"I went from people just thinking I was, like, a baby to people thinking I'm this, like, sex freak that really just pops molly and does lines all day. There's a sex scene in pretty much every single movie, and they go, 'Well, that's a character.' Well, that's a character. I don't really dress as a teddy bear and, like, twerk on Robin Thicke, you know," Cyrus told NYT.
The provocative dance inspired millions of Cyrus wannabes the world over, but not all of them proved as adept at twirling their bottoms as Miley.
Watch the YouTube clip below to see one twerk go disastrously wrong: