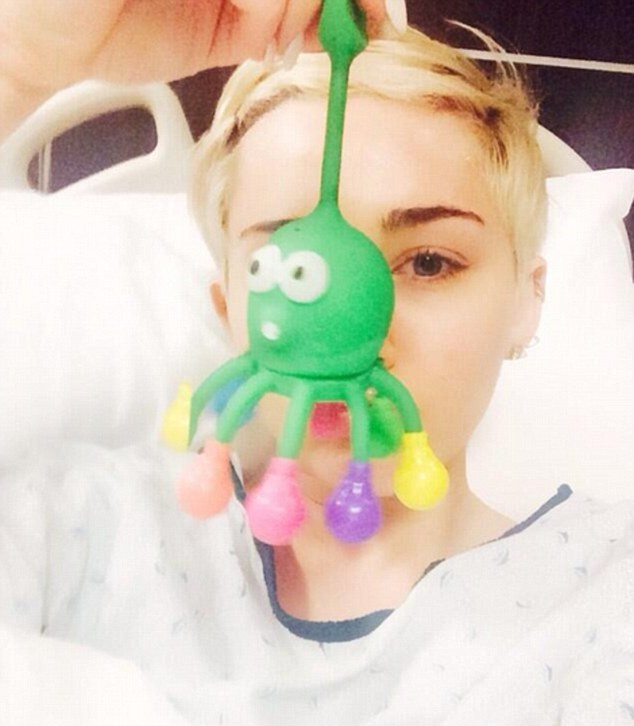 Miley Cyrus is said to be devastated at cancelling her Bangerz concerts after it was revealed she could remain in hospital for as long as 27 days.
The singer was hospitalised after suffering a severe allergic reaction to an anti-biotic prescribed for a sinus infection.
Cyrus, who is in the middle of her Bangerz tour, was forced to cancel her St. Louis, Missouri concert, a day after she cancelled her Kansas City concert.
Writing on Twitter, the singer responded to false reports about her health and the future of the tour saying: "So many ignorant stories out there no one is reading the official statement and these dumb asses are scaring my fans. Please read official [statement]"
She posted the statement which read: "Miley was suffering from a sinus infection during her tour in N.C. a week ago. She was prescribed the antibiotic cephalexin, which she has now suffered an extreme allergic reaction to. This type of extreme reaction can last from 5 to 27 days in these types of cases."
"She will remain hospitalized and is under a doctor's care until we see some improvement and is asking for your compassion and privacy at this time. Miley is devastated about missing shows and possibly disappointing her fans,"
The 21-year-old performer will "remain hospitalized' for an 'indeterminate amount of time," her publicists added.
Cyrus personally revealed the news of her illness to fans on Twitter saying: "I can't get a hold of my team because it is so early so I want to be the one to tell my fans especially the ones trekking to get there.
"The hospital is sayin i wont b released today therefore Im not going 2 make it 2 St Louis. Im so sorry but somethings are outta my control [sic]."
She previously responded to her critics who claimed she was relieved to get out of the gruelling tour.
"Humans can b so selfish. if any1 thinks id rather b layin n a hospital bed than doing what i love on stage theyre f***in LAME. im miserable [sic]," she tweeted.
The stress of the tour appears to have been taking it's toll on the controversial star, who was earlier reported to be suffering from flu-like symptoms.
Cyrus is also grieving the death of her beloved dog Floyd, an Alaskan Klee Kai which was attacked by a coyote in Los Angeles, while the singer was on tour.
The singer has been placed on medical rest by doctors, with no indication as yet given when she will resume the tour.
Refunds were being offered at the point of ticket purchase with online and phone orders being automatically refunded.