Miley Cyrus Gets Sad Kitty Tattoo on Her Inner Lip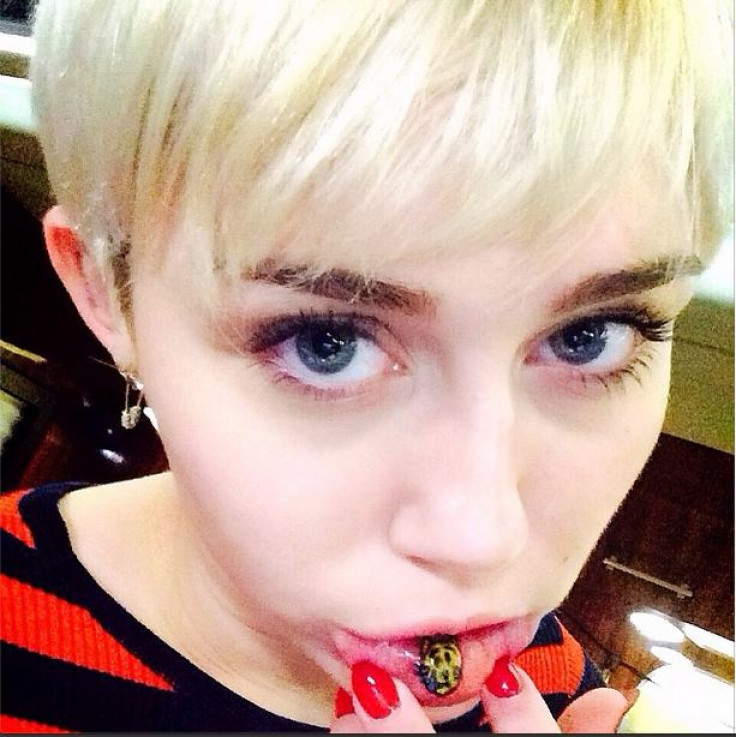 Miley Cyrus shocks her fans once again by inking a 'sad kitty' tattoo on her inner lip. Ouch, does that hurt Miley?
The 21-year-old singer showed off her latest and weird tattoo on Instagram and later tweeted it.
In the picture, the "Wrecking Ball" singer pulled her bottom lip to reveal her new tattoo of a bright yellow cat shedding a single blue tear drop.
Cyrus took a close up shot of the tattoo in another picture and wrote, "#sadkitty #f--kyeahtulsa @waynewontpostpicsofnakedwomen @katyweaver #lovemoneyparty #freakz."
However, it is unclear if the tattoo is temporary or permanent. If permanent, it must have been a very painful process for the inner lip is a very sensitive spot.
"@MileyCyrus: #FridayinTulsa #fuckyeahtulsa I ❤️@waynecoyne @katy_weaver pic.twitter.com/Uuooh2oGjE"

— MUFASA (@langdonbieber) March 15, 2014
The twerking Cyrus has around 20 tattoos including her grandmother Loretta Finley's portrait, quotes from Teddy Roosvelt, a dream catcher and heart and cross on her fingers. Cyrus also inked magazine Rolling Stone's name on the soles of her feet.
The Breakout singer hasn't revealed why she chose the sad kitty but her Instagram post suggests that Cyrus took inspiration from the emoji icon for her tattoo.
The Hannah Montana star was in news in recent times for all wrong reasons, be it the infamous tongue locking smooch with Katy Perry or her raunchy twitter/Instagram pictures.
Last weekend, Cyrus showed off her toned body while performing in a bikini during the Bangerz tour in Milwaukee.
© Copyright IBTimes 2023. All rights reserved.