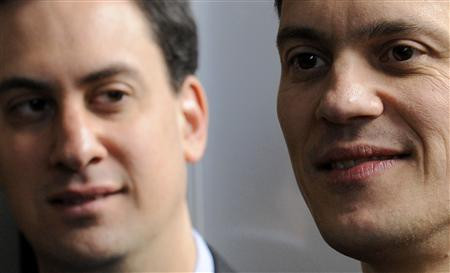 The Miliband brothers, David and Ed, are continuing to push ahead with their respective bids to become the leader of the Labour Party, having secured the first "supporting nominations" after the close of nominations from their fellow Labour MPs.
In order to get their name on the ballot candidates for the Labour leadership needed nominations from 33 Labour MPs (12.5 per cent of the Parliamentary Labour Party). The Milibands were the first of the original six contenders to secure their 33 nominations and were the only two to gather more than the 33 required.
In total David and Ed Miliband secured 144 of the 243 nominations cast for five candidates (after John McDonnell pulled out of the race), representing nearly 60 per cent of all the nominations from the PLP.
The candidates are now able to secure "supporting nominations" from MEPs, Constituency Labour Parties and Trade Unions. While the supporting nominations do not directly affect the outcome of the result they can indicate the depth and breadth of support within the wider Labour Party and help create a sense of momentum for a candidacy before the party votes.
Ed Miliband has received his first modest supporting nomination from Arlene McCarthy, MEP for the North West region of England. Meanwhile David Miliband has done a little better with Michael Cashman MEP of the West Midlands, Richard Howitt MEP of Eastern England and the Bromsgrove Constituency Labour Party throwing their support behind him.
So far none of the other candidates have received any supporting nominations, but with voting not set to begin until September the other candidates have plenty of time to gather support. Ed Balls in particular is expected to gain significant support from trade unions like Unite, which funded Labour heavily in the last election.