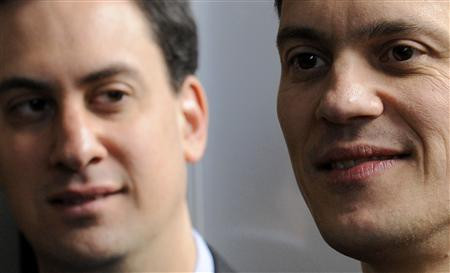 The Miliband brothers, David and Ed, have both received boosts to their campaigns to become the next Labour leader, setting the stage for what looks likely to come down to a final fraternal battle between the two.
So far both Milibands have dominated the five-horse race, they were the first to secure the support needed from their fellow Labour MPs to be nominated and both have by far the most supporting nominations from MEPs, Constituency Labour Parties and Trade Unions.
Ed Miliband is seen to learn slightly more leftwards than David Miliband and is likely to generate more second preference votes from candidates such as Diane Abbott and Ed Balls. He is also regarded as being more union friendly, a vital asset in a party that receives significant funding from unions and in which unions have a role in choosing the leader.
Today Ed Miliband received backing from heavyweight trade union UNISON after previously securing the support of the influential GMB union.
Following the nomination Ed Miliband said on his Twitter page that he was, "Honoured and delighted to have received the support of UNISON which had a thoughtful + thorough process of consultation with their members".
David Miliband has also received support from smaller unions but despite the lack of the big names of the trade union movement still appears to be a favourite to win.
A YouGov poll found that, of those who responded, 17 per cent of people thought David Miliband would be next Labour leader, ahead of Diane Abbott with 10 per cent, his brother with seven per cent and Ed Balls and Andy Burnham, both with six per cent each.
A Comres poll of 136 business leaders also found 51 per cent of respondents saying that David Miliband he presented the greatest threat to the current government.