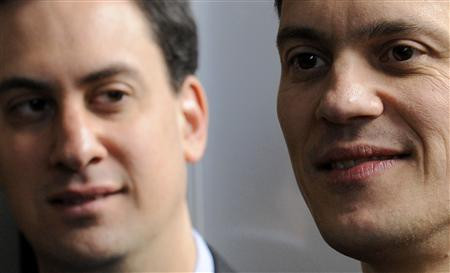 Brothers David and Ed Miliband are currently leading the race to take over the leadership of the Labour Party, following its defeat at the last election and the subsequent resignation of Gordon Brown.
In order to face election by the wider party candidates need to be nominated by 12.5 per cent of the Parliamentary Labour Party, under current circumstances that means 33 MPs.
Ed Miliband was the first to secure the necessary number but he has now been overtaken by his older brother David Miliband, while other contenders Andy Burnham, Ed Balls, John McDonnell and Diane Abbott are trailing behind.
David Miliband currently leads with 48 nominations, including former cabinet ministers such as Douglas Alexander, Caroline Flint and Alan Johnson. David Miliband is also believed to have the support of former Business Secretary Lord Mandelson and has been nominated by new MP and TV historian Tristram Hunt, who also had the backing of Lord Mandelson to become an MP.
Ed Miliband is close behind with 41 nominations and has prominent supporters such as Frank Dobson, Hilary Benn and Peter Hain.
Ed Balls has only 15 nominations so far, with his wife Yvette Cooper the only big name among them, while Andy Burnham has only 10 nominations, none of which are from well known figures.
Neither John McDonnell nor Diane Abbott has secured any nominations yet.
Mr McDonnell has criticised the rules of the contest saying that the 9 June deadline to gather 33 nominations is too short and favours better known candidates.