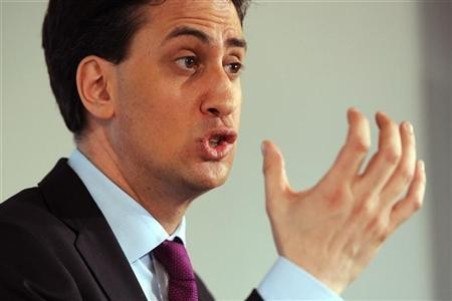 Ed Miliband has been forced to explain to Labour Party members in Scotland why he hailed Margaret Thatcher after her death.
Addressing the Scottish Labour conference in Inverness today, Miliband insisted he was right to label the former Prime Minister "an extraordinary woman," whom he "honoured" for her "personal achievements."
Miliband joined the tide of mourning after Thatcher's death last week with a speech in which he hailed her for being the first female Prime Minister. He also praised Thatcher as a "unique and towering" figure.
Today in Scotland there is only a single Conservative MP, after the party was wiped out north of the border in Labour's 1997 election victory.
The reaction to Thatcher's death in Scotland was markedly different to that witnessed at her funeral in London on Wednesday.
In an attempt to placate grassroots members, Miliband told delegates at the conference in Inverness that Thatcher's policies had caused "pain" in Scotland.
"The last 10 days have been dominated by memories of Lady Thatcher and the 1980s," Miliband said.
"We know how much pain the Tory governments of that time caused to communities in Scotland and the whole of the United Kingdom."
'Right to show respect'
Yet Miliband also defended his pronouncements in the wake of Thatcher's death.
"Despite my deep disagreements with what Lady Thatcher did, it was right to show respect because you can't preach the principle of one nation, and then fail to uphold it in practice.
"That principle defines who I am, how I lead the Labour Party, and how we would seek to change the country together with the British people."
Setting out his vision to unite Britain, not "divide our country," Miliband finally rubbished David Cameron's coalition.
He said: "You know the similarities between what was happening in the 1980s and what is happening today under a Conservative-led government. But the parallels don't end there.
"They also lie in what enabled the Tory government to come to power back then and circumstances now. Back in the 1970s, it was clear the country needed a new way of doing things - a new settlement - and so too today."