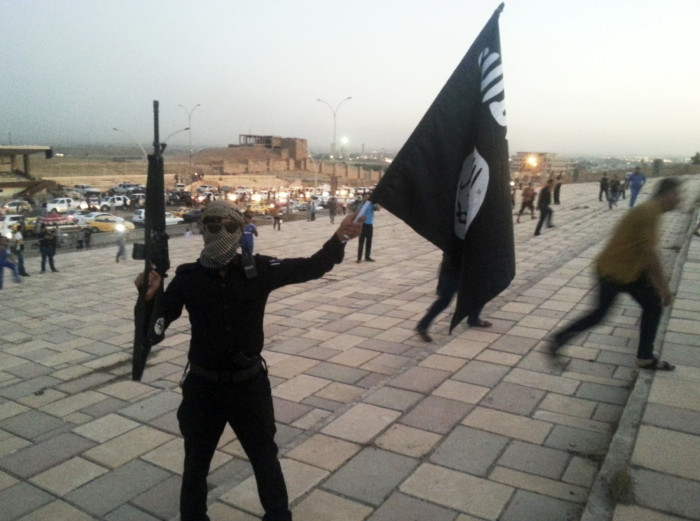 Flags similar to those waved by Islamic State as they rampage through northern Iraq and Syria, have been photographed flying on an east London council estate.
The flags, with white Arabic text on a black background, have been seen draped on the gates of Will Crooks estate on Poplar High Street, along with flags in support of Palestine. However, the flags are not an exact replica of the now-feared Isis flag.
The flags have caused tensions within the local community. When Guardian journalists approached the gates, they were threatened by a group of young local men.
When a passer-by tried to take photographs he was asked if he was Jewish, and informed in threatening language it would make a difference if he was.
Although one youth said the flag was for Allah, not Isis, another is reported to have said: "So what if it is?"
The Metropolitan Police said they have had no complaints about the flags, which are not illegal in the UK. In Holland, Isis flags are against the law.
There have been a number of cases of Muslim extremism in east London, including people being threatened for drinking alcohol, wearing "provocative" clothing or simply for being gay. EDL have attempted to march through the area to stir up unrest, but mostly without success.
The recent crisis in Gaza has led to a great deal of ill-feeling in the UK, with pro-Palestine rallies, the boycotting of Israeli performers at the Edinburgh Festival, and anti-Semitic attacks on Jewish people.
London's Tricycle Theatre recently announced it would not host the UK Jewish Film Festival if it received funding from the Israeli government, though it did offer to make up the shortfall. The festival declined the offer.
In July, a major demonstration in support of Gaza by pro-Palestinians briefly blocked the Blackwall Tunnel close to Poplar.
Although the East End has a sizeable Muslim population, it is also home to many Jews, Sikhs, Christians and other religions, most of whom co-exist relatively peacefully.