Millions of UK workers are confused about the government's flagship pension reform, despite a £3.5m TV advertising campaign to raise awareness of it, according to software firm Sage.
A study of more than 1,037 people also found that 27% of respondents are still in the dark about what auto-enrolment means for them and their retirement.
The reform was introduced by the Coalition Government in October 2012 and means all employers with UK based staff have to enrol their workers into a workplace pension.
Every firm has a so called "staging date" for when they have to implement the reform depending on how many people they employ.
The Department for Work and Pensions estimates that up to 11 million people will be automatically enrolled onto an occupational pension scheme between 2012 and 2018.
But the Sage survey found that 56% of respondents – or 6.1 million workers – found the term "auto-enrolment" confusing and could not say what it relates to.
"The way we save for retirement has transformed in recent years, but the lack of awareness about the change is a major concern," said Lee Perkins, a managing director at Sage UKI.
"The fact that there is such confusion and ambiguity surrounding the term auto-enrolment means the language surrounding workplace pensions needs to be looked at and considered carefully.
"This is something that will affect the majority of people in the country and will have implications for your retirement so it is vital you are up-to-speed on the changes."
But the research also revealed that when workplace pensions and auto-enrolment was explained to respondents, over three quarters (76%) said they agreed with the changes being introduced.
However, with 35% indicated that they wished their employer had provided them with more information.
The £3.5m Ad Campaign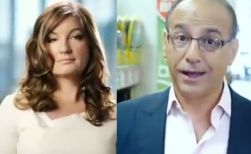 The figures come after the Department for Work and Pensions drafted in well-known business leaders, including Theo Paphitis and Karren Brady, as part of its "We're All In" £3.5m ($5.7m, €4.4m) TV advertising campaign to raise awareness of auto-enrolment.
"The government has gone to great lengths to ensure people are aware of the benefits of having a workplace pension, including through use of the high profile and award-winning 'We're All In' advertising campaign," said a Department for Work and Pensions spokesperson.
"We are now working hard to make sure British bosses and their staff are ready for automatic enrolment and that the schemes people save into offer the best possible value for money."
Will you be automatically enrolled?
Employers will register their staff into a workplace pension between 2012 and 2018.
You have to be aged between 22 and the State Pension age to qualify.
You have to earn more than £10,000 a year to qualify.
You have to work in the UK to qualify.