The Duke and Duchess of Cambridge and Prince Harry have backed a two-part documentary that deals with one of their pet topics, mental health, which begins tonight on BBC1.
The first episode features presenter Nick Knowles helping a group of runners who are living with or affected by mental health issues. It documents them training for the ultimate test of mind over matter – the London Marathon.
Knowles sets out on a quest to find 10 inspiring runners with a range of different mental health problems. He then follows their progress as they prepare both physically and mentally for the race.
They are running as part of the Heads Together campaign that was founded by the royal trio. The runners are later joined at a special training day by the Duke and Duchess of Cambridge and Prince Harry.
It also shows how the power of exercise can be a well-being tool, especially for runner Rhian who has PTSD and anxiety after her one-year-old son died suddenly of pneumonia. Following the tragedy, her husband disappeared a few days later and took his own life, leaving her to raise their surviving children. She says during the programme: "I can't let anything else bad happen to me."
IBTimes UK reported yesterday that during the show, William opens up about losing his mother, the late Diana, Princess of Wales, when he was just 15 years old.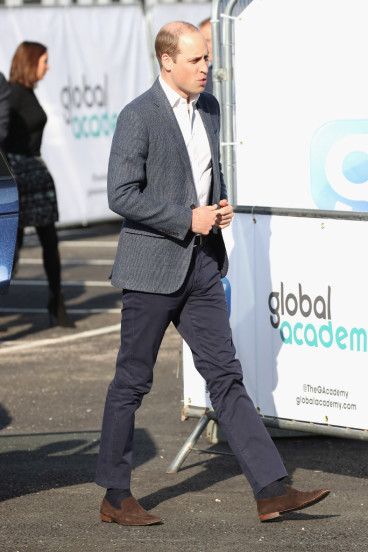 Speaking about his grief, he tells Rhian: "I still feel, 20 years later about my mother, I still have shock within me. You know, 20 years later.
"People say shock can't last that long but it does. You never get over it. It's such an unbelievably big moment in your life that it never leaves you, you just learn to deal with it."
Just last weekend, Harry, 32, spoke to The Telegraph about dealing with his grief much later than some would have thought.
He said that by the time he was 28 – and following encouragement from William – he felt compelled to seek professional support after he found himself suffering overwhelming anxiety during royal engagements and was "on the verge of punching someone".
He said: "I can safely say that losing my mum at the age of 12, and therefore shutting down all of my emotions for the last 20 years, has had a quite serious effect on not only my personal life but my work as well," he said.
"I have probably been very close to a complete breakdown on numerous occasions when all sorts of grief and lies and misconceptions and everything are coming to you from every angle."
Mind Over Marathon airs tonight (20 April) at 9pm on BBC1.