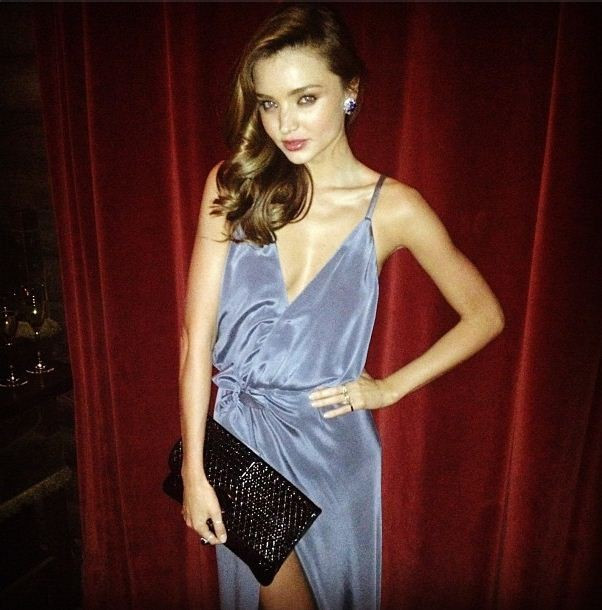 Australian supermodel Miranda Kerr looked particularly glamorous at W Magazine's 40th anniversary party at the Gramercy Park Hotel in New York. The 29-year-old, who is married to Hollywood star Orlando Bloom and has a son with the Pirates of the Caribbean actor, wore a classic grey-blue flowing gown, with a thigh-high slit. She paired the dress with blue Bvlgari earrings, black peep-toe shoes and a clutch.
The event was hosted by Stefano Tonchi, the editor of the magazine, and arranged in association with Tod's, and also celebrated the release of the book - W: The First 40 Years.
Kerr was obviously very excited about the event and tweeted this message, with a photograph of herself: "At W magazine's 40th anniv bash."
The Victoria's Secret Angel, who led a line-up of beautiful women at the annual Victoria's Secret Lingerie show in New York last week, has also been named the Sexiest Woman Alive by Esquire, and has admitted she loves flaunting her curves.
"I believe in celebrating the female figure and embracing what we've been given, not hiding that," she said, "I don't really think of rules, as long as it's classy and timeless and it's something I wouldn't be ashamed of."
Nevertheless, despite her ultra-feminine looks, Kerr revealed she was a tomboy growing up.
"I spent my childhood outdoors on my grandparents' farm. I learned to ride a motorbike when I was about six, a little PeeWee 50," she said, "I'd climb trees - there was a big weeping willow. We had a flying fox [a zip-line]. I was so fortunate to grow up like that.
"I really feel that my body craves to be in the mountains or by the ocean or in the countryside. I still like to climb the odd tree. Yeah, it's fun! I like to climb. I find it very rewarding. You feel like you're going somewhere. I don't like abseiling, though. I don't like going down. I like going up. It is though! I got stuck up a tree when I was about seven, and my dad had to come and get the ladder to get me down. I loved to climb all the way up to the top. I must have been a koala in my past life," she told the magazine.