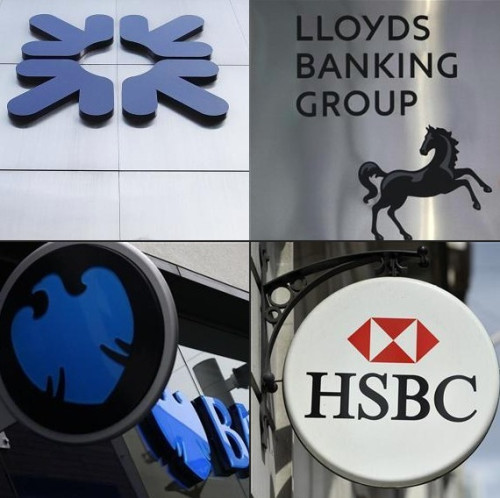 Britain's biggest banks have only paid out £158.6m in redress to just over 1,000 victims of mis-sold interest rate swap agreements, despite an estimated 40,000 businesses being affected by the scandal.
According the Financial Conduct Authority's latest progress report, just 1,040 victims have accepted "full tear up" and alternative product offers and £158.6m (€192m, $261m) has been paid out so far [Figure 1].

"Banks have picked up the pace since November; we asked that they focus their efforts on making far more rapid progress in assessing individual cases and crucially in providing redress," said Clive Adamson, director of supervision at the FCA.
"May remains the target for all offers to have been sent out and the banks involved are working towards that. Any affected business that has been invited to join the scheme and hasn't, needs to act now so they can receive the redress they're due."
Interest rate swap agreements are contracts between banks and customers where typically one side pays a floating or variable rate of interest and receives a fixed rate of interest payments in exchange.
Such contracts are used to hedge against extreme movements in market interest rates over a given period. Companies that saw the value of these products move against them as rates fell during the recession now owe banks inordinate sums of money in yearly interest payments.
In November, the FCA originally vented its frustration over the banking sector's slow progress in reviewing interest rate hedging products, as data shows 95% of sales were non-compliant.
The amount of redress paid by the end of December is around double that of the previous month and data shows that 96% of sales were non-compliant.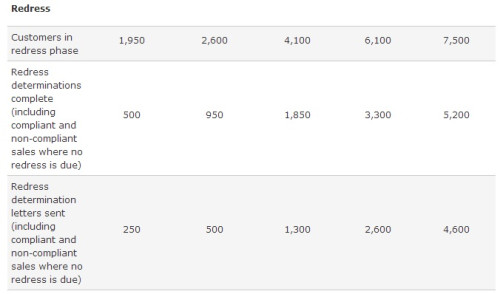 While the £158.6m may seem a sizeable amount, it is relatively small considering banks have paid out nearly all of the £17bn it has set aside to deal with mis-sold Payment Protection Insurance.
Moreover, the number of customers that have accepted redress offers or in the redress phase is paltry compared to the 30,000 to 40,000 people that are estimated to have been mis-sold complex derivatives products [Figure 2].
Each bank has made different speeds of progress [Figure 3].
For sales at the redress offer and acceptance stage, for example the redress outcome has been communicated to the customer, the Royal Bank of Scotland has 1505 at that stage while HSBC comes in second at 1265.
Lloyds Banking Group has 727 while Barclays has nearly only a third of the front runners total with 683.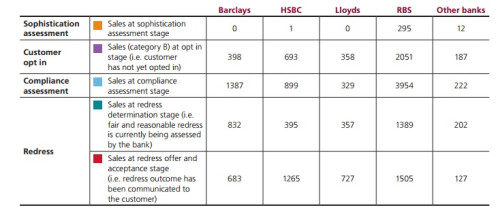 Bank Statements
IBTimes UK contacted each of Britain's biggest four banks for a response over the progress of the review.
Barclays:
"It is in Barclays' interests as well as our customers to complete this complex review as fast as possible and our 600 dedicated staff are working hard to achieve this."
"Where we have made mistakes, we will put them right."
HSBC:
"Our Past Business Review is progressing well, and over half of the customers who have taken part in the Review have been notified of their individual outcome, including details of redress where that is due to them."
"Our recent decision to introduce 'split payments' is speeding up the process and means customers get redress that is due to them at the earliest opportunity, potentially months earlier than under the process for a single payment.
"We are on course to complete our Review by May, providing a fair and reasonable outcome to these customers, and we have plans in place to meet the FCA deadlines."
Lloyds:
"Today's FCA's report into participating banks' review of Interest Rate Hedging Products shows Lloyds Banking Group is continuing to make good progress with its review. Lloyds Banking Group has now communicated the redress outcome statement for more than half of its opted-in sales, fulfilling the FCA's request that all banks meet this target before the end of 2013."
"The Group remains on schedule to communicate redress outcomes to all customers within the 12 month timeline set by the FCA and is committed to settling the redress with customers as quickly as possible."
RBS:
"We are committed to ensuring that all those that were mis-sold these products get fair and reasonable redress. We are working hard to process cases as quickly as possible prioritising those businesses that are most in distress first."
British Bankers' Association, Chief Executive Anthony Browne:
"Anyone who wrongly suffered as a result of having been mis-sold an interest rate hedging product will get appropriate and fair redress.
"Banks are working hard to complete the reviews and as the regulator notes today the process is speeding up.
"We would encourage customers involved in these reviews to engage closely with their bank. This will increase the chances of a quick resolution to the process."