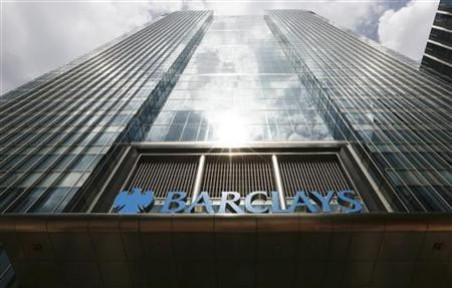 Barclays is battling fresh Libor fixing evidence in court after Guardian Care Homes, which is seeking an invalidation of complex derivative products it was sold to by the bank, takes it to an appeals court.
In a Court of Appeal hearing lawyers claimed board-level managers knew of the manipulation, but still let borrowers take out products based on Libor.
During a three day hearing in the London Court of Appeal, over whether rate-rigging will prove that a bank mis-sold interest rate swap agreements (IRSA) to customers because the swaps are attached to the Libor rate, GCH cited a letter from Barclays' lawyers to the Singapore regulator which contained details of an internal investigation by the bank between January 2006 and April 2010.
Court filings revealed that bosses including ex-finance director Chris Lucas and then-group treasurer Jon Stone knew what was happening.
The filings cited transcripts from traders which GCH argues back up the case.
"Mr Lucas doesn't want us to be outside the top end. And apparently they chatted on the whole of the 31st floor [the boardroom location]," said treasury manager Miles Storey to former-rate submitter Peter Johnson in records from November 30 2007.
"Mark had a talk with Jon Stone on the phone saying oh what are you doing with Libors? Ya know you're going over the market again. And he said, well that's where they are, in fact they're probably not higher enough," said Johnson to two Libor submitters on 19 November 2007.
They also cited an email from British Bankers' Association which was circulated to then-chief John Varley, ex-finance head Chris Lucas and ex-chief Bob Diamond, in 2008.
It asks them "to do what is necessary within your organisation to effect appropriate rates to set."
Barclays in a statement to IBTimes UK, said:"Barclays has chosen not to object to the introduction of new evidence to the Court of Appeal hearing, however the bank does not consider any of the new evidence to be relevant to the issues in front of the Court of Appeal,."
While the Financial Conduct Authority (FCA) pledged to "look at the documents, as would be expected," the regulator clarified to IBTimes UK that it was "not launching another large scale investigation, nor is [the FCA] launching a review."
"We are looking at the documents that are in the public domain," a spokesperson added.
Barclays' lead counsel Robin Dicker also added that the bank "is not concerned with the extent to which Barclays manipulated Libor or the regulators' reports."
"It is concerned with a much narrower issue, whether GCH can rely on such conduct to avoid or reduce its obligations."
Guardian Care Homes and Barclays
GCH, a British care home operator, is suing Barclays for £70m (€82m, $112m) over allegations that the bank mis-sold it IRSAs.
GCH's case centres around loan and finance deals between Barclays and itself during 2007 and 2008 and subsequently two multi-million pound IRSAs attached to it.
The care home's IRSAs were linked to Libor. After first claiming that the bank mis-sold it these derivatives, it added Libor fixing into its filing later on.
Since it first filed in April last year, Barclays won the right, one year later, to try to dismiss the first attempt to bring it to court by GCH. The court case has now been delayed until 2014.
Barclays told IBTimes UK that "this started as an alleged mis-selling case which Barclays considers has no merit. The addition of a claim based on what happened with Libor does not change the Bank's view."
"This business had a suite of advisors and a lot of financial experience and skill in-house. Barclays understands the client entered into their swap agreements with sufficient understanding to exercise their own judgment as to whether the products would meet their business objectives. This is a significant business which owes Barclays £70m."
Barclays settled with US and UK authorities for £290m over Libor fixing issues in June last year.
What the New Evidence Says
According to legal papers filed to the Court of Appeal, the inquiry found that ex-Barclays employee Quan Hui Lee had asked bank staff to manipulate the rate to boost the fund's returns.
In one email, Lee said "go get Libor down," while another said "LOWER! Go for 3 percent ... I want yr end 3mL (three-month Libor) to be 2.8 percent or at worst 2.88 percent."
GCH said "the purpose of the fraud was to make profit or avoid losses on 'Ricardo Master Fund".
Lee now works at the investment fund Ricardo Master Fund, which is run by Barclays.