Mis-Selling Derivatives: Lloyds to Split Redress and Consequential Loss Payments for All Customers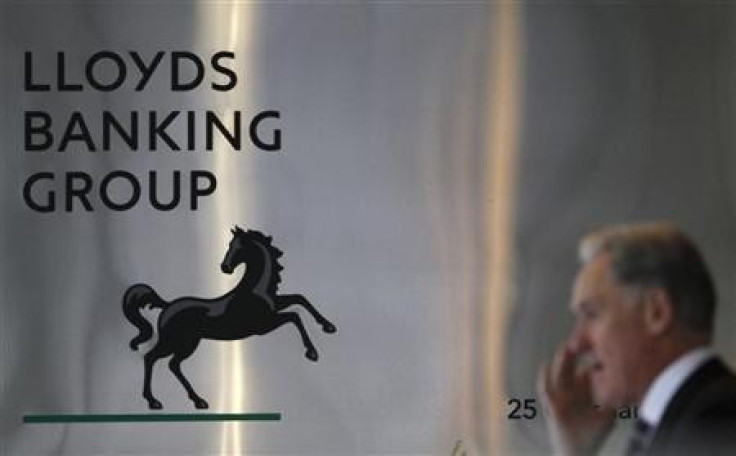 Lloyds Banking Group has revised its payment system for victims that were mis-sold interest rate derivatives and will now offer all customers redress before consequential losses are calculated.
According to a statement sent to IBTimes UK, Lloyds has fallen in line with RBS and HSBC and has agreed to pay redress to businesses that were mis-sold interest rate swap agreements (IRSA) before their application for consequential losses have been determined.
"Lloyds Banking Group has confirmed that, having reviewed its position, it will now offer to pay all customers any redress due before any consequential loss claim has been outlined by the customer and agreed with them, having initially determined to offer this just to those customers in financial distress," said the bank in a statement.
"The group determines this to be the right approach to take to ensure all customers are treated fairly and ensures all customers in the review are now able to benefit from an earlier payment."
HSBC was the first to announce that it plans to compensate all customers more quickly with a new system that will pay firms redress before consequential losses are determined.
RBS opted for the same approach a day later.
Barclays is now the only bank out of Britain's largest four financials to only pay redress before consequential losses on a case-by-case basis.
"The Financial Conduct Authority's (FCA) report into participating banks' review of Interest Rate Hedging Products (IRHP) shows increasing momentum in Lloyds's assessment of cases and the subsequent customer contact programme. In the current reporting period the group has seen a quadrupling of the number of redress outcomes communicated to customers, when compared to the previous period," said Lloyds.
"This momentum is expected to continue, with the number of redress outcomes expected to double in the coming month.
"The group remains on schedule to communicate redress outcomes to customers within the 12 month timeline set by the FCA, having commenced the review in May this year."
Redress and Consequential Losses
Interest rate swap agreements are contracts between banks and customers where typically one side pays a floating or variable rate of interest and receives a fixed rate of interest payments in exchange.
Such contracts are used to hedge against extreme movements in market interest rates over a given period. Companies that saw the value of these products move against them as rates fell during the recession now owe banks inordinate sums of money in yearly interest payments.
Previously under the FCA interest rate hedging product review, no payments could be made from banks to customers until the entire process of determining redress was completed.
This prevents a party being able to make claims over and over again and costing firms multiple sets of bills from fresh reviews.
When a bank is being contested about a swap it has sold, it firstly determines whether the product has been mis-sold, with the help of an independent reviewer. It then calculates what redress to offer.
The bank then offers the client a redress package, which can include anything from a refund of swap payments to a restructuring of a business loan at a better rate.
This is different from compensation.
Consequential loss claims, which involve the party providing evidence that it incurred losses as a result of the IRSA, are filed separately.
This means that while a bank can make an initial redress offer - a product tear-up or switch and/or compensation - if a company is claiming for consequential losses on top of this, then it would have to wait until after the banks have assessed the application for damages.
The FCA's chief executive Martin Wheatley said in a statement sent to IBTimes UK: "I welcome the move to pay compensation in two stages."
"I've been urging the banks to consider what more they could do to ensure the small businesses affected by swap mis-selling get the compensation they're owed as quickly as possible.
"The announcements over the last couple of days are a good first step."
© Copyright IBTimes 2023. All rights reserved.