Brazil's annual "Miss Bumbum" competition took place this week and immediately twerked its way into controversy as early favourite Livia Santos found herself disqualified for allegedly cheating by hacking the voting process.
Speaking about the controversial event's organiser, Cacau Oliver, Ms Santos declared: "I want him to prove that I was hacking. I have employees who have been voting for me since two months ago."
Santos was in top spot before being eliminated, and having lost out on the f£13,000 first prize is now threatening legal action against Oliver, who seemed relaxed about the possibility. "If she paid for an Internet cafe, that is already fraud," said Oliver. "She bought votes and I do not agree with that."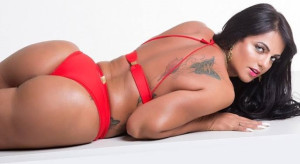 Santos says Oliver knew she was buying votes - but that everything was above board. "My husband gave his own workroom 17 computers in there with people voting for me," she insisted.
Santos claims she saw the contestant who was declared Miss Bumbum 2014, Claudia Alende from Paraná, suddenly get 6,000 votes out of nowhere and is demanding judges investigate the automated system. She also alleges judges attempted to extort money from her so that she could win. Similar claims were made of the show last year.
Organiser Oliver said Alende, 20, would not be disqualified as well as she is believed to be attracting votes due to her large social media following rather than by "buying" votes.
The Miss Bumbum competition takes place each year and aims to find Brazil's finest bikini bottom. The show features representatives from each of the country's 27 states, 15 of whom battled it out in the final. Finalists included a supposed Megan Fox lookalike, twins and a plus-sized model. According to the event's website, this year there were more than 2 million votes cast.
Last year a Miss Bumbum runner-up named Andressa Urach claimed to have had sex with Cristiano Ronaldo, claims the footballer took to Facebook to dismiss.
Despite its popularity, the competition has also been dismissed as being deeply sexist and demeaning to women. Channel 4's Daisy Donovan, who attended the 2013 final, called the show "a spectacular feast of the flesh."