A unique campaign to help highlight the plight of missing children in Europe has begun, using the 404 error pages displayed when you visit missing webpages.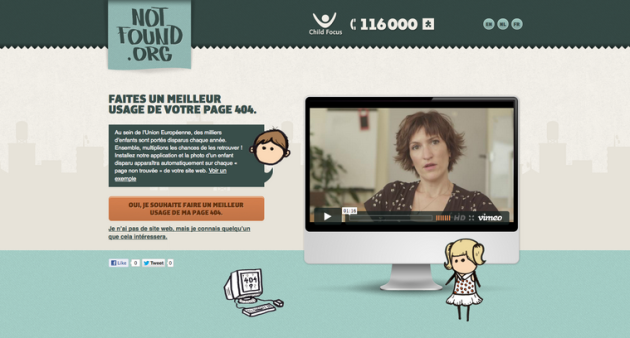 Missing Children Europe (MCE) and Child Focus, along with the help of Famous, a Belgian advertising agency, have launched a digital campaign aimed at raising awareness about cases of missing children.
The project, named NotFound, uses "404 - page not found" error messages on missing web pages to display announcements of missing children.
The project was started in Belgium and, for the moment, only displays cases that are treated in Belgium. By the time this article was written, 936 websites had already integrated the NotFound campaign.
Maryse Roland, spokesperson for Child Focus, the European centre for missing and sexually exploited children located in Belgium, explained that the pages will not just concentrate on new cases.
"This project will allow us to once again concentrate the attention on children whom we haven't heard of for many years. These children risk falling into oblivion. The choice of the shown missing persons message on the 404 page will be at random: it could be a recent disappearance, or on the contrary, a child that has been missing for a long time.
"We already have a few major partners and invite every business or person with a website to join our project. No financial investment is required, just good will."
The use of 404 pages came across as an ideal solution, since many websites do not have a personalised error message and a virtually unused.
"The 404-page is a cornerstone of the internet culture. An increasing number of websites designs have customized error pages that limit frustrations for the user. With the NotFound-project we are however taking this one step further by giving these pages a reason to exist. The next step came easily: Page not found, neither is this child" said Laurent Dochy, creator of the project over at Famous.
Delphine Moralis, deputy secretary-general at Missing Children Europe, said the campaign had been a bigger success than they had expected. "Over 7,000 tweets mentioned the campaign and from this, approximately NotFound has potentially been viewed by 19 million people. This is thanks to being picked up by Mashable and the BBC, among others.
"This is a pilot project, concerning only cases treated in Belgium, but it has been such a success we will be working to expand it to cover other locations much sooner than anticipated. We will work with local branches so that if someone accesses a page from, let's say, Greece, they see a case that is relevant to their location."