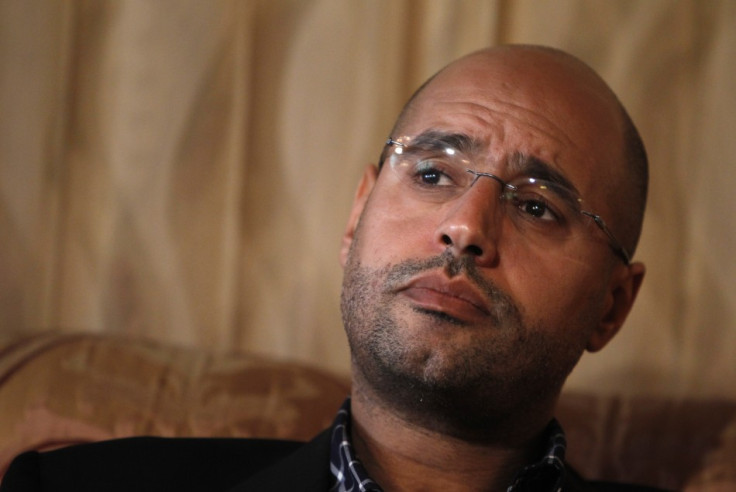 Moammar Gadhafi's son and onetime heir apparent, Saif al-Islam, fearing for his life, has taken refuge among nomads in the Sahara and is seeking an aircraft to fly him out of Africa to the International Court of Justice in The Hague, an official from Libya's ruling National Transitional Council told Reuters Thursday.
The senior NTC official said the 39-year-old Saif had crossed the border into Niger but had not yet found a way to hand himself in to the ICC, which indicted him and his father for war crimes.
"There is a contact with Mali and with South Africa and with another neighboring country to organize his exit. ... He hasn't got confirmation yet; he's still waiting," said the official.
Saif al-Islam and the old regime's intelligence chief, Abdullah al-Senussi, are said to be in the desert in Niger or Mali, protected by Tuareg nomads, according to a report in Reuters.
Earlier, NTC Chairman Mustafa Abdul-Jalil called for NATO to extend its mission in Libya until the end of the year. He said the extension would help the Libyans to control surplus weapons and to deal with Gadhafi loyalists.
Meanwhile, the United Nations Security Council unanimously passed a resolution Thursday ending its mandate of allowing military intervention in Libya and terminating the no-fly zone it imposed in March.
The council's decision comes after Gadhafi was killed last week near his hometown of Sirte, after which the country's transitional government formally declared the country's liberation.
NATO, which led the air campaign against Gadhafi's forces, confirmed Thursday it would cease operations by 11:59 p.m. Libyan time Monday, when it will hand control of Libyan airspace over to the new authorities.