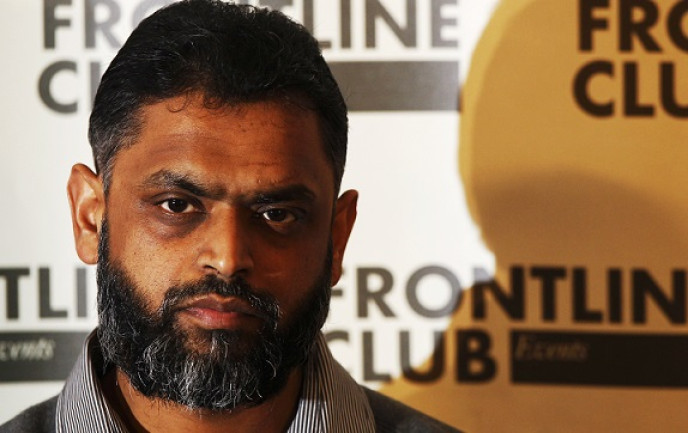 Former Guantanamo Bay prisoner Moazzam Begg has defended Cage, following the controversy over comments its director made about Islamic State (Isis) executioner Jihadi John.
Begg, a former director of the organisation, rejected accusations that Cage endorsed IS and said he had worked to secure the release of Alan Henning, a British hostage executed by Jihadi John, who was recently revealed to be west Londoner Mohammed Emwazi.
"Far from failing to stick up for the human rights of people who have been beheaded by Isis, our track record shows we have played a key role in attempting to save hostages' lives," Begg wrote in the Independent.
Cage director Asim Qureshi faced widespread criticism after alleging mistreatment by UK security services radicalised Emwazi. In the article, Begg denied he endorses IS.
He wrote: "I have more reason than most to oppose Isis. They have tortured and executed several of my friends in Syria, including a rendition victim and a man who welcomed me into his family home where I stayed for months."
He claimed he was approached to help Henning, who was kidnapped in 2014 after travelling to Syria with an aid convoy, after spending time in Syria helping secure the release of tortured captives from militant groups that went on to join IS.
"I raised the matter with the Foreign Office (FO), took advice from former hostage Terry Waite and got a message to the controversial jihadi Jordanian cleric Abu Qatada to make an appeal," wrote Begg. "I prepared a letter to Isis leader Abu Bakr al-Baghdadi pleading for Henning's release."
Begg was arrested and charged with terrorism offences in July 2014. All charges were subsequently dropped.
Cage campaigned for Henning's release claims Begg
He wrote that when he was arrested, the letter to al-Baghdadi and pictures identifying Henning were seized, and that in his absence Cage continued to campaign for Henning's release. "Thoughts of Henning remained with me in prison but I was helpless," he wrote.
He claimed he was prevented from making a personal appeal to al-Baghdadi on Arabic television from prison and his letter to the self-styled Caliph of the Islamic State was only delivered three weeks later, when Henning's identity became public when he was identified in a video showing the execution of fellow British captive David Haines on 13 September.
"The day after my release from prison I watched again in horror as Alan Henning, the man who'd accompanied British Muslims to bring relief to Syria's destitute, was mercilessly beheaded," he wrote.
Begg went on to attack UK security services for failing to secure the release of captives and negotiate with IS and alleged they made Emwazi "paranoid and suicidal."
He alleged the formation of IS "was a direct result of Western actions", following the invasion of Iraq by the US led coalition, and that IS leaders were brutalised as a result of incarceration inside US prisons inside Iraq. "The brutality meted out against Iraqi captives played a direct role in Isis' behaviour," he wrote.
Begg was held for three years after being arrested in Pakistan in 2002 on suspicion of terrorism. Since his release, he has campaigned for "communities impacted by the war on terror".