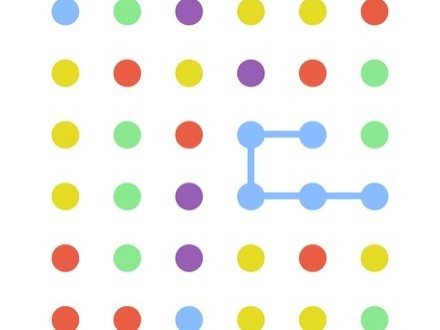 Key Features
Developer - Betaworks
Format - iOS
Device tested - iPhone 4
Price - Free
Dots: A Game About Connecting
After Game Dev Tycoon and The Nightjar, we have something a bit more broad-church this week. Dots: A Game About Connecting is about as simplistic and compulsive as an iPhone game gets, mixing bright colours with pseudo brain-teasing to create the perfect waste of time for when you're waiting for a train or bored on your lunch break.
It's a sort of mix between Connect4 and Bubble Bobble. Different coloured dots fill the screen and you have to swipe your finger between them to join them together, creating straight rows (diagonals aren't allowed) of two or three dots which give you points. If you can make a square of four dots that are the same colour, that colour of dots vanishes from the board, upping your score substantially. The idea is to rack up as many points as you can before the time elapses.
This is generally the point where we might say "sounds simple? It's not" but, no: That's all Dots is about. It sounds a little empty maybe and unfulfilling, but you'd be surprised how hard it is to put down. It's similar in a way to Thomas Was Alone which we reviewed not long ago, another simple puzzle game that's nevertheless compelling. Like Thomas, Dots is the equivalent of a Sudoku or a word search or a crossword; it's not hard exactly but your brain and your hands just like doing it.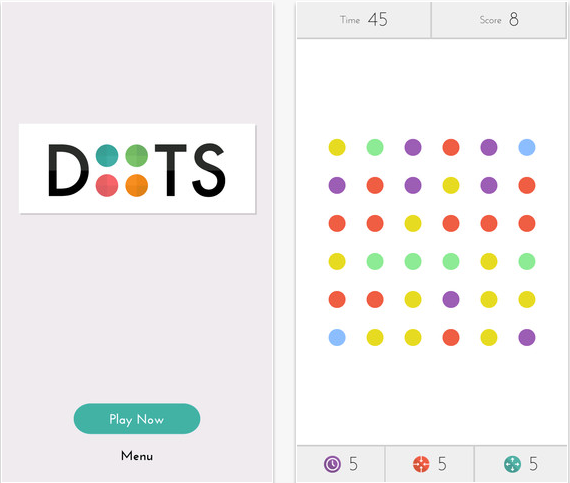 It features of course the dreaded in-app purchases, but the points you accumulate from joining dots can also be used for buying upgrades and power-ups. Other than that, and a few social features like leaderboards, it's just about joining dots, basically; if there's one thing you can say about the makers of Dots: A Game About Connecting it's that they're not afraid to call a spade a spade.
According to Tech Crunch, Dots has already mounted up one million downloads in its first week of release. With figures like that, you have to wonder whether this is just another Draw Something and the appeal here is going to be short term. That might be Dots' only real downer: It's fun and compelling to start with, but once you've joined the dots and then joined then some more, there's not much underneath. It feels almost like an interactive screensaver or a plaything rather than a bona fide game. It will keep you occupied for a while, but it's definitely throwaway.
Regardless, Dots is fun while it lasts. If some of the chunkier games we've looked at lately haven't been your thing, then this is smaller, simpler and more pick-up-and-play. Happy connecting.
Score: 7/10
Want to know what our scores mean? Have a look at how we review games.