ABC's Modern Family Season 6 returns with its Halloween special today, Wednesday, 29th October, at 8 pm ET.
The episode is titled 'Halloween 3: AwesomeLand' where Claire lets Phil take charge of Halloween this year, but the spirit is too much for Claire to resist.
Click here to watch the episode live stream online.
The official synopsis reads:
Even though Halloween is Claire's holiday, she allows Phil to take over this year so instead of her usual fright-fest theme, he decides to turn the house into AwesomeLand! Gloria picks out Princess Fiona and Shrek costumes for her and Jay but Jay decides he wants to be Prince Charming complete with a full head of gorgeous hair, and with the hair comes a new sense of confidence. Elsewhere, Cameron gets overwhelmed by the day's activities and Mitchell has closing arguments for a huge case, and it doesn't help that the stenographer is dressed like a spider.
Executive editor Adam Bryant previewed the episode and teased that Ronnie and Amber will be back up in Wednesday's Halloween episode.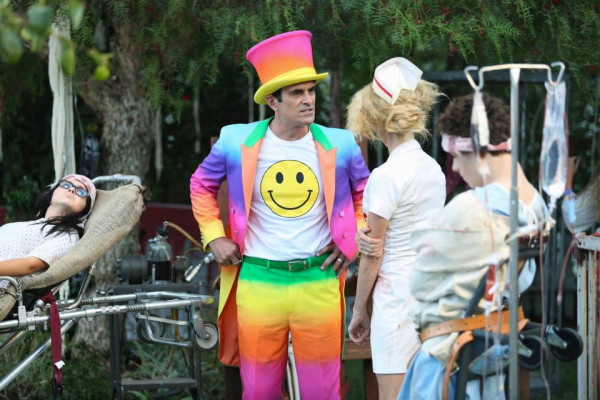 He told Tv Guide: "When Phil decides to take over the Halloween decorations from Claire for a change. In fact, the obnoxious neighbors waste little time weighing in on Phil's plan, which creates quite a rift between the Dunphys. But why are Ronnie and Amber so keen on giving their advice?"
He added, "Let's just say they're planning something that's a lot more trick than treat."
watch a promo here