Egypt's Mursi Cuts Ties with Assad Regime and Calls for No-Fly Zone over Syria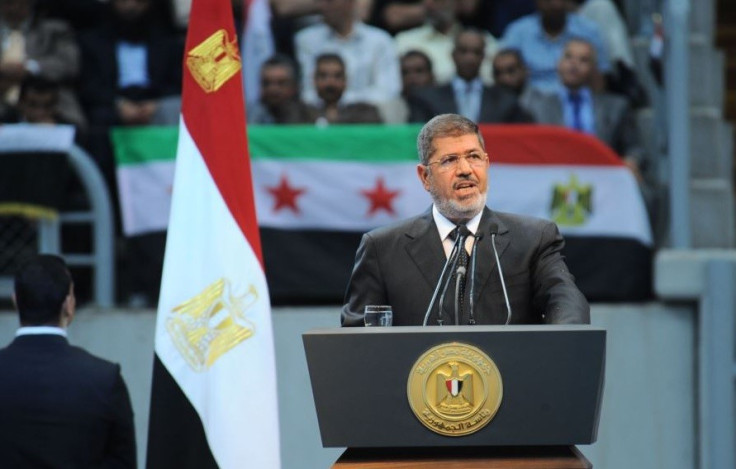 Egyptian President Mohammed Mursi said he had severed diplomatic ties with the Syrian regime and called for a no-fly zone to be imposed over the country.
Mursi told tens of thousands of supporters in a rally in Cairo that his government was withdrawing its charge d'affaires from Damascus and was shutting down the Syrian Embassy in Cairo.
He demanded Lebanon's Hezbollah militant group pull out of Syria, where the Iranian-backed Shiite group has been fighting alongside troops loyal to President Bashar al-Assad against the mostly Sunni rebels.
Mursi said: "We decided today to entirely break off relations with Syria and with the current Syrian regime.
"We stand against Hezbollah in its aggression against the Syrian people. Hezbollah must leave Syria - these are serious words. There is no space or place for Hezbollah in Syria."
Mursi, who faces growing discontent over the economy and opposition to his Islamist social agenda, said he was organising an urgent summit of Arab and other Islamic states to discuss the situation in Syria, where the United States approved moves to arm the rebels.
Speaking at a packed 20,000-capacity stadium, Mursi urged the international community to enforce a no-fly zone over Syria.
His supporters chanted: "From the free revolutionaries of Egypt, we will stamp on you, Bashar!"
Western diplomats said Washington was considering a limited no-fly zone over parts of Syria. But the White House warned the measure would be far harder and more expensive to impose than had been the case in Libya.
Russia, Assad's most powerful ally, said any attempt to impose a no-fly zone using F-16 fighter jets and Patriot missiles based in Jordan would be illegal.
Egypt's army, funded by the US, is among the region's largest, and effectively ran the country before the Arab Spring of 2011 led to elections which brought Mursi to power a year ago.
Mursi stopped short of suggesting Egyptian forces would get involved in the fighting in Syria.
He said Syria was the target of "a campaign of extermination and planned ethnic cleansing fed by regional and international states" in what was taken as a reference to Iran, though he did not name Iran directly.
Mursi said: "The Egyptian people support the struggle of the Syrian people, materially and morally, and Egypt, its nation, leadership and army, will not abandon the Syrian people until it achieves its rights and dignity."
Egypt has taken no active role in arming the Syrian rebels, but an aide to Mursi said Cairo would not stand in the way of Egyptians who wanted to fight in Syria.
© Copyright IBTimes 2023. All rights reserved.