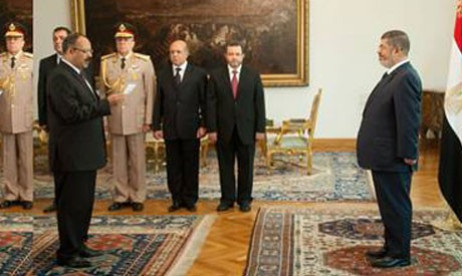 Egypt's President Mohammed Mursi faces growing anger after appointing the former leader of a terrorist group responsible for the massacre of a group of Western tourists as governor of the city of Luxor.
Adel el-Khayat, the new governor, was a founding member of Gamaa Islamiya, the Islamist militant group that massacred 62 people in the Valley of the Kings 10 miles outside Luxor in 1997.
Crowds gathered outside the governor's office after the appointment as tourist operators and hoteliers mobilised to protest. Tourism officials met in a hastily convened session to discuss their response.
Tharwat Agamy, the head of Luxor's tourism chamber, said tourist industry executives in the city had threatened to stop Khayat entering the building. They said they would change the locks and "send him back to the airport".
"It is unimaginable that those who plotted, participated or played any role in the massacre of Luxor become the rulers, even if they renounced and repented it," said Agamy.
Mohamed Abdel Samir, manager of Viking Travel, said: "This decision is completely wrong. This is not a suitable man for Luxor at all."
Local travel agent Sameh Roshdy said: "Luxor is a touristic town. And now the new governor is one of those linked with the 1997 attack? We are not going to stand this."
Gamaa Islamiya militants carried out a wave of terrorist atrocities targeting civilians and Western tourists in the 1990s. In 1997, the group murdered 58 tourists and four Egyptians inside the Temple of Hatshepsut in the Valley of the Kings.
The group, which later renounced violence, won 13 seats in the lower house of parliament in Egypt's parliamentary elections of 2011.
Following the emergency meeting, hoteliers, travel agents, shopkeepers and other businessmen said they would picket the governor's office to prevent him from taking up his post.
There were plans to block his arrival at Luxor airport, said Agamy.
Members of the tourism industry plan to join opposition party activists at anti-government protests across the country set for 30 June, the anniversary of Morsi taking power.
The Muslim Brotherhood has called on its supporters and allies in Islamist parties to stage rival protests.