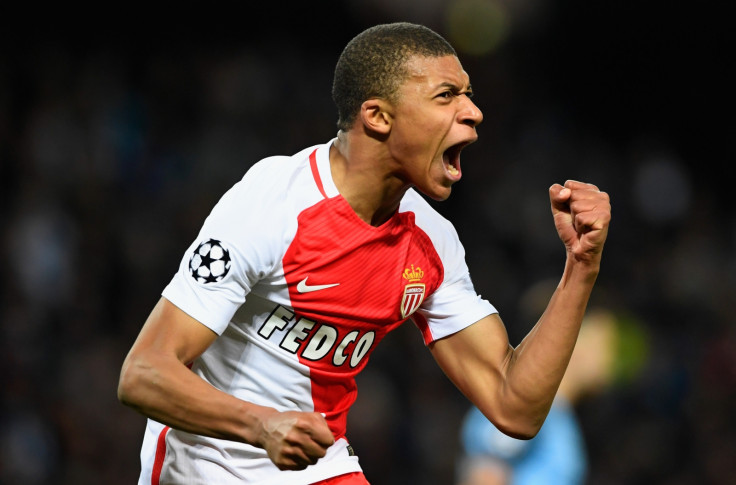 Monaco's highly-rated young forward Kylian Mbappe has said his priority is to play regular first-team football amid reports linking him with a big-money summer move to a top European club.
Speaking to beIN Sports, Mbappe said he will be the sole person to make a decision on where he will play next season.
The 18-year-old was named the Ligue 1 Young Player of the Year after scoring 15 goals in Monaco's title-winning campaign. He has been linked with a host of top clubs in England, including Manchester United, Manchester City and Arsenal.
The Daily Telegraph reported on 22 May that Monaco had turned down a world-record bid of around €120m (£103m) from Real Madrid for Mbappe as they wish to hold on to him for at least one more year.
Mbappe said his sole focus for the moment was on developing his game by playing at a club that offers regular first-team football.
"I will make a choice based on my sporting career, and my career is first and foremost, and I am at an age where I need to play, and that will be paramount," he said.
"I'm not 35 or 36, an age where I have to manage [my body], I still have everything to learn, this year was discovery, and now comes the most important step: Confirmation.
"And I will be the sole decision-maker, and I will not go anywhere where I will be forced to go."
Monaco chief executive and vice president Vadim Vasilyev told the Telegraph that the club had no intention of selling Mbappe this summer.
"The plan is to do everything to prolong him and to do everything that he stays a minimum one more year with us," he said.
"We will [turn down offers for Mbappe], although that will depend, of course, also on the player. We will make an offer to prolong his contract and hopefully he will accept and stay with us. I think in the month of June, before the season starts."