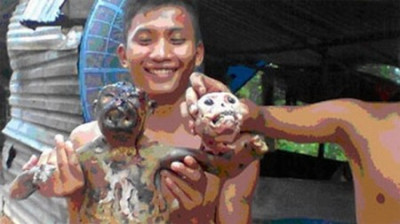 Three Vietnamese soldiers have been thrown out of the army after pictures of them torturing and killing rare wild monkeys were posted on Facebook
The pictures showed the three soldiers forcing two critically endangered grey-shanked douc langurs to smoke, before skinning and beheading them.
The images, which sparked immediate outrage, were taken down from Facebook shortly after the scandal arose, but are still available online.
Nguyen Van Quang, 20, who is believed to have posted the images online, was the first soldier to be dismissed by the central Gia Lai province military unit. The identities of the other two have yet to be confirmed.
Eight more soldiers have reportedly received a warning and three local villagers have been arrested for hunting down the monkeys.
It is believed that the soldiers bought the monkeys for $57 from local wildlife smugglers.
"Soldiers who commit barbarous acts against wild animals must be seriously punished, setting an example for others," Major Gen Nguyen Duc Hai told the VietnamNet website.
Vietnam: worse wildlife crime nation
Grey-shanked douc langurs are a native Vietnam species, and their total population is thought to number just 650. They are hunted and traded in Vietnam for bush meat and for their bones - which are traditionally believed to contain healing powers.
In a recent report, the International Union for Conservation of Nature (IUCN) named the grey-shanked douc langurs among the world's 25 most endangered primate species.
Vietnamese soldiers allegedly used the rare monkeys as shooting targets during the Vietnam war (1955-1975), seriously reducing the langurs' population.
A survey of 23 countries, carried out by the World Wildlife Fund (WWF) last month, found that Vietnam is the worst country in Asia for wildlife crime.