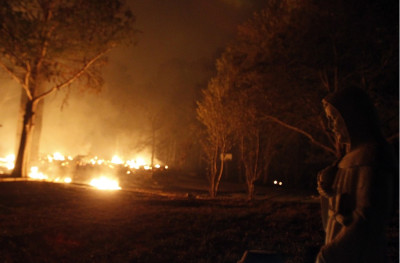 A "monster" wildfire, 16 miles (26 km) wide, has struck drought-stricken Texas, destroying almost 500 homes.
"We have about 16 miles long at this time and about six miles wide," Bastrop County Fire Chief Ronnie McDonald said.
Officials said the Bastrop fire had "grown considerably" Monday and is now burning on 25,000 acres (10,000 ha), with Gov. Rick Perry warning the next 48 to 72 hours would be "crucial."
Recent fires across Texas have burned up to 3.5 million acres, "roughly the size of Connecticut" Perry said. "I understand that losing your home or lifetime possessions is incredibly difficult, but do not put your life in jeopardy," he said.
Jan Amen, of the Texas Forest Service described the blaze as "a monster" that had been "zero per cent contained"
In East Texas, a 20 year-old woman and her baby died in a blaze Sunday, and about 5,000 have been evacuated from their homes because of the Bastrop fire, which is about 30 miles (50km) southeast of Austin.
According to officials, 400 people were in emergency shelters, and school and related activities were cancelled Tuesday.
The Bastrop blaze is the largest of dozens of wildfires burning throughout the state, including more than 60 that started on Sunday, fueled by high winds coupled with drought conditions.
Dry conditions are expected to persist at least through the week, according to the National Weather Service. Texas has been suffering its worst drought since the 1950s.