Environmental activists are being killed at a rate of two a week, with 116 confirmed murders around the world in 2014, according to a new report by campaign group Global Witness.
According to the report, "How Many More?", known perpetrators have included members of the police, private security firms, paramilitary groups and the military. About 40% of the victims were members of indigenous groups, often protesting against hydropower/dams, agriculture and mining.
Global Witness claims environmentalists are now twice as likely to be victims as journalists around the world, and that the true number of murders may be far higher.
"Globally, it's likely that the true death toll is higher," states the report. "Many of the murders we know about occurred in remote villages or deep within the jungle, where communities lack access to communications and the media. It's likely many more killings are escaping public records."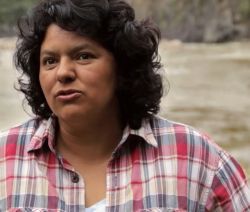 Central and South America is the most dangerous region for defenders of the environment, with Honduras the most dangerous country. Between 2002 and 2014 there were 101 killings of activists.
Global Witness campaigner Billy Kyte told Al Jazeera: "In Honduras and across the world environmental defenders are being shot dead in broad daylight, kidnapped, threatened, or tried as terrorists for standing in the way of so-called 'development'."
Honduran indigenous rights campaigner Berta Cáceres, who is the winner of the 2015 Goldman Environmental Prize, has seen fellow Copinh protesters killed, been arrested on what she says are fabricated charges, and been the subject of rape and death threats, for opposing the construction of the Agua Zarca hydro-dam which would cut off water from hundreds of villagers.
However despite the risks, which have also seen two of her children forced to leave the country, Cáceres remains defiant.
"We must undertake the struggle in all parts of the world, wherever we may be, because we have no other spare or replacement planet," she told The Guardian. "We have only this one, and we have to take action.
"The Honduran people, along with international solidarity, can get out of this unjust situation, promoting hope, rebellion and organising ourselves for the protection of life."