A precarious ceasefire between Ukrainian authorities and pro-Russian separatists appears to have broken down, with Ukrainian President Petro Poroshenko warning: "We will attack, we will free our land."
In his address to the nation Poroshenko said: "Non-renewal of the ceasefire is our response to terrorists, rebels, looters, all those who torment the civilians, who paralyze the economy of the region, who disturb payment of salaries, pensions, stipends, who undermines the railroads, destroys water pipes, those who deprive people of normal peaceful life."
The ceasefire, which was due to end at 2000 BST on Monday 30 June, had ended because of the "criminal activities" of militants, said Poroshenko, speaking after a meeting with security chiefs called to discuss the ceasefire. Poroshenko also spoke with the leaders of Germany, France and Russia.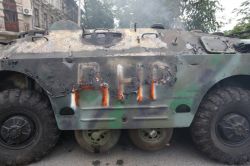 27 Ukrainians have died and a further 69 been wounded in fighting since the ceasefire began on 20 June. Poroshenko extended the ceasefire for 72 hours last Friday and called for Russian President Vladimir Putin to control its borders to stop more rebels and weapons entering the country from the east.
President Putin had called for the ceasefire to be extended and pro-Russian militants have blamed the Ukrainians for violating the truce. Putin had suggested Ukraine and Russia patrol the border together and called on the Organisation for Security and Co-operation in Europe (OSCE) to monitor the truce, but to no avail. Tonight the Russian news agency Itar-Tass reports heavy shelling near Kramatorsk airport in Donetsk, with several people reported killed.
Ukraine has been in a state of near-civil war since the overthrow of former president Viktor Yanukovych in February. The mostly-Russian speaking Crimea was annexed by Russia in March and several other provinces in the east of the country have now voted to break away from Kiev's influence, with frequent bloody clashes between the two sides in which hundreds have died.