Morgan Freeman Death Hoax: Bruce Almighty Star Denies Death Rumours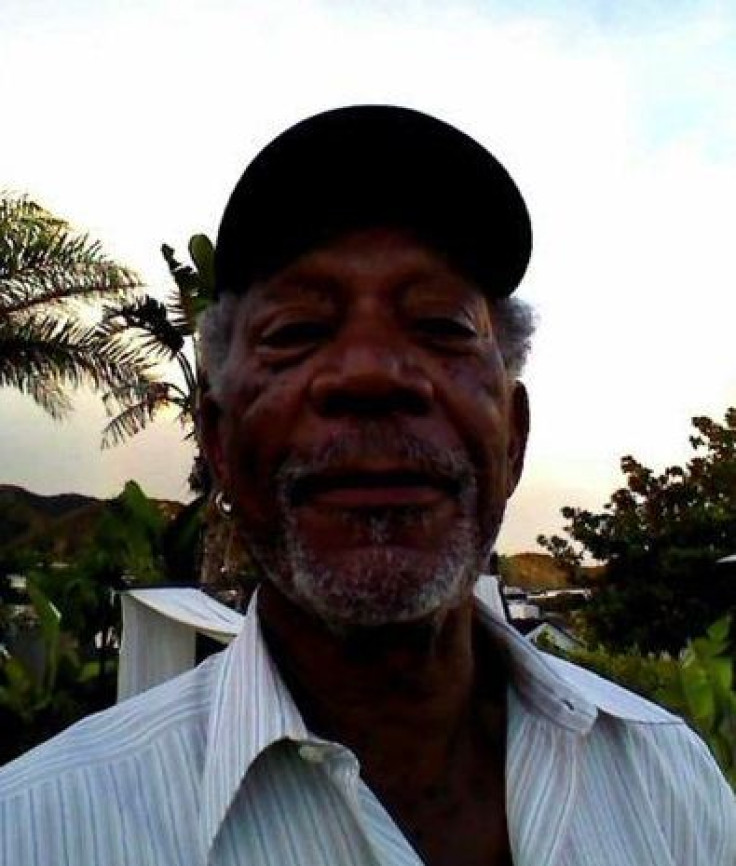 Oscar winning actor Morgan Freeman was again pronounced dead, by internet death hoax stories. But this time, the 75- year- old who played God twice in films - Bruce Almighty and Evan Almighty, personally came forward to clear off the rumours. The actor was in good spirits and poked fun at fake stories suggesting he has died, assuring fans that he is alive and well.
"Like Mark Twain, I keep reading that I have died," he wrote in his Facebook page along with a photo of himself with a partly cloudy sky and palm trees in the background.
"I hope those stories are not true. ... But if they are, I'm happy to report that my afterlife seems identical to my life when I was alive.
I did go to Las Vegas to begin work on the film 'Last Vegas.' That is anything but a death sentence."
A Facebook fan page - R.I.P. Morgan Freeman emerged on 27 August stating that the Shawshank Redemption actor is no more and as of now, the page has garnered nearly a million "likes."
Meanwhile, Freeman is currently busy shooting for the film "Las Vegas" along with Robert De Niro, Kevin Kline and Michael Douglas, which tells the tale of about four sixty-something best friends who go to Las Vegas to throw a bachelor party for the last one of them to get married. The film hits theaters in December 2013, E online reported.
Celebrity death hoaxes have become growing trend in recent times. It includes comedian Bill Cosby, Bill Nye the Science Guy, Reese Witherspoon, Robert Pattinson, Margaret Thatcher, Phil Collins, Kris Jenner, Denzel Washington, Adele, John Witherspoon, Taylor Swift, Justin Bieber and Lady Gaga.
Cosby is the Internet's favourite victim, as he has been targeted at least five times.
"I don't want [whoever spread the rumour] to do this anymore, because this is my fourth time being reported [dead]," American actor and talk show host Cosby told CNN, "I don't know. Maybe a psychiatrist will say I'm feeding [the rumour starter's] ego, but I just want to say to friends of that person: Just tell him to stop, because it isn't funny."
Apart from death hoax stories, celebrities are also subjected to cyber bullies, often referred to as internet trolls.
Pop star Adele who welcomed her first child with fiancé Simon Konecki, shockingly received cruel tweets, over her weight, post-natal depression and even the death of the new born. In August, ITV News reported that "Australia's Next Top Model" judge Charlotte Dawson attempted suicide after she was harassed on the micro blogging site and told to end her life. While American country and pop singer LeAnn Rimes had to seek treatment for stress relief after she was threatened by various Twitter users, TMZ reported. "X-Factor" judge Gary Barlow also became the victim of merciless posts after his wife gave birth to a stillborn daughter.
© Copyright IBTimes 2023. All rights reserved.