Morrisons has announced it is to launch a new brand of milk which will see 10p of every litre sold be given directly to dairy farmers.
The supermarket's Morrisons Milk for Farmers will be launched this month in the wake of the protests by farmers over how much they get paid for the milk their cows produce.
The milk will cost an extra 10p and will be sold alongside Morrisons' standard price milk, with the extra costs given farmers within Arla, Britain's biggest milk cooperative.
The move arrived after members of farmers' unions held emergency talks over the drop in price of milk and the amount farmers receive because of it.
There have been several protests in supermarkets across the country, including instances of cows being paraded through Asda supermarket aisles and demonstrators removing litres of milk from the shelves.
In Asda, a four-pint carton of milk currently costs about 89p, an 11p drop in price from the same amount in 2012.
Morrisons' corporate services Director Martyn Jones said: "We recognise that the current market for liquid milk is impacting on hardworking dairy farmers and their families. We want to reassure the industry that the retail price we charge for Morrisons' milk reflects the highly competitive retail market. It is not linked to the price we pay our milk suppliers."
Jones added: "We also want to clarify that our current three-year contract with Arla, who supply the majority of our milk, uses a cost model that automatically adjusts the price that we pay for milk, based on a combination of the independently set farm-gate price and other commodities such as diesel and plastics that influence the cost of milk."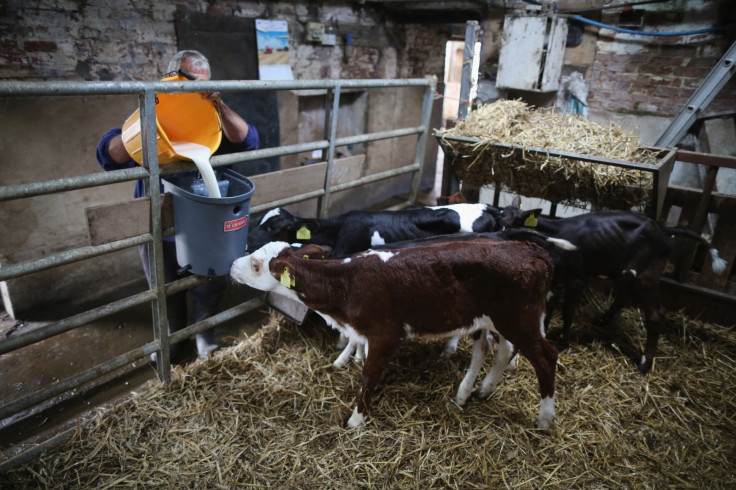 A spokesperson for Morrisons said: "We recognise that the current market for liquid milk is impacting on hardworking dairy farmers and their families. We want to help.
"We have asked our milk suppliers not to pass on further decreases in the current farm-gate price to us, but to share any benefit with the dairy farmer instead. We want to offer practical help by being the first supermarket to launch a range of four-pint milk at a premium of 10p per litre, all of which will be passed back directly to Arla farmers.
"We will stock this product in all our stores, offering our customers the choice to support dairy farmers directly."
The National Farmers' Union warned that British milk products could disappear from supermarkets completely if the price of milk continues to drop.
However, British Retail Consortium rejected these claims and insists supermarkets are not the right target.
A spokesperson said: "There is no connection between the price of milk in supermarkets and the price retailers pay farmers for their milk. We understand the current frustration of farmers but it is wrong to blame retailers."