Egypt: Morsi Supporters Attack Coptic Churches in Sohag, Menya and Dilga [VIDEO]
Sectarian violence flares after troops 'slaughter' of Brotherhood supporters and death of Gulf News journalist Habiba Abdel Aziz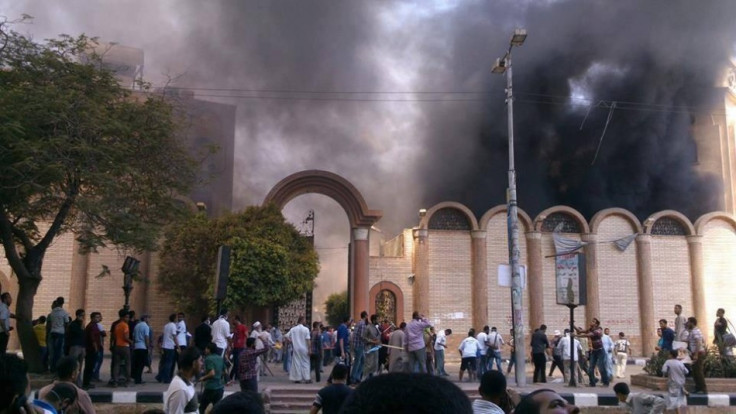 Supporters of ousted Egyptian president Mohamed Morsi have attacked churches in Dilga, Menya and Sohag after government security forces backed by armoured cars and bulldozers stormed protest camps outside Cairo's Rabaa al-Adawiya mosque.
Coptic churches were attacked after hundreds of Muslim Brotherhood members were feared dead when troops used live bullet rounds and teargas to clear a protest camp in Cairo.
The Churches of Abraham and the Virgin Mary in Menya were burning after Morsi supporters set fire to the outside of the building exteriors and smashed through doors.
Russia Today reported that at least 1,000 pro-Morsi protesters were involved in the attack before police armed with teargas dispersed them.
Muslim Brotherhood members also threw firebombs at Mar Gergiss church in Sohag, a city with a large community of Coptic Christians who represents up to 10 percent of Egypt's 84 million people, causing it to burn down, the official MENA news agency said.
Protesters threw molotov cocktails at the Bon Pasteur Catholic Church and Monastery in Suez, setting it ablaze and breaking windows.
The development came after Gulf News newspaper confirmed that its Egypt correspondent Habiba Abdel Aziz had been killed by sniper fire in Cairo.
© Copyright IBTimes 2023. All rights reserved.