Mosul front: Lost in the desert with the anti-Isis Shia militias of the Popular Mobilization Units
Fighters and journalists came under fire at a newly-liberated airport outside Tal Afar.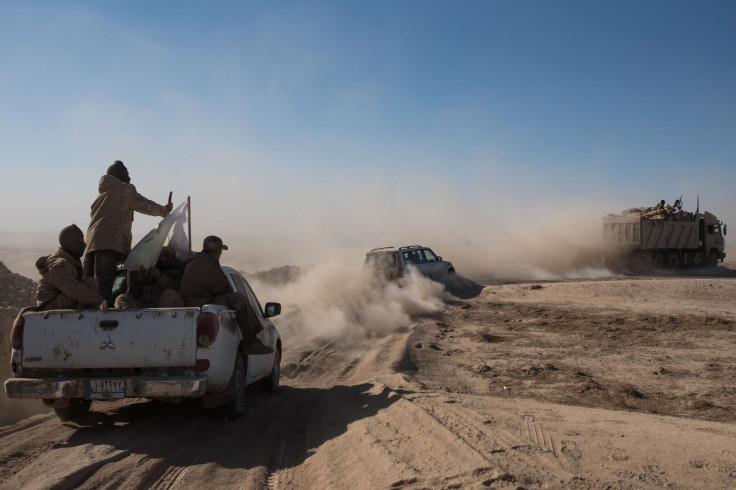 In the desert somewhere west of Mosul, a speeding convoy is on the warpath. It is an austere landscape of dust and more dust, a fine powder that rises in puffs with every footstep and in clouds from behind moving vehicles.
This lengthy convoy is producing its own sandstorm. There's new mine-resistant ambush-protected vehicles, large lorries with dust-encrusted men in balaclavas clinging to the loads, and "technicals" – machine-gun mounted pickups with more gun-toting fighters hanging off the back.
Among the vintage artillery pieces, workshop-welded rocket launchers, ambulances, jeeps and up-armoured bulldozers there are even modern US-made M1 Abrams battle tanks.
These are Iraq's Popular Mobilization Units – Shia militias – and they're charging northward towards the Isis-held town of Tel Afar.
A second caravan of armoured Land Cruisers and soft-skinned SUVs pulls broadside, and as the vehicles slow to navigate a deep dust bowl, a motley legion in blue kevlar vests and ill-fitting helmets disembarks and swarms the larger convoy, taking aim with cameras at the cheering fighters.
A harried-looking man in aviator glasses speaks anxiously into a crackling radio before chasing after the journalists. Haitham al-Mayahi has a tricky job.
Often maligned by human rights groups and the media as bloodthirsty sectarians bent on revenge against Sunni Muslims, many of the PMU are now trying to show a softer side to Western journalists. Mayahi has been deputised to run the charm offensive, in this instance by leading a press tour to show off the newly-liberated Tel Afar military airbase.
Larger rounds howl overhead and the press pack hits the ground in fear.
Initially excluded from the military operation to drive the extremist Sunni Islamic State (IS) group from Nineveh province, the PMU have muscled their way in. They're encircling Mosul to the west – cutting off a vital supply line and potential escape route to Syria for IS fighters.
Now they're outside the city of Tel Afar, a mixed-sect Turkmen city and notorious jihadi breeding ground. Many senior IS leaders hail from Tal Afar, including Abu Alaa al-Afri, who was once IS leader Abu Bakr al-Baghdadi's deputy before being killed in an air strike last year.
But before the IS takeover in summer 2014, Tel Afar's population was divided between Sunni and Shia, and observers fear a bloodbath of revenge killings if the Shia militias enter.
LISTEN: Podcast: On the outskirts of Mosul, civilians pay the price for the war against Isis
Tel Afar is also a geopolitical tinderbox with the potential to antagonise Iraq's neighbours. Turkish President Recep Tayyip Erdogan last month warned that the Turkmen city was a matter of "great sensitivity" to Turkey and the PMU entering the city could provoke an intervention from Turkish troops stationed nearby in the autonomous Kurdistan region of Iraq.
Iran meanwhile sees Tel Afar as an important lynchpin in a crescent of Shia influence stretching out to the Mediterranean. Tehran's influence over the PMU is contentious. PMU salaries are paid from Baghdad and they are ostensibly under the control of the prime minister, but in reality they are a disparate collection of militias, some of which are said to take their orders from Iran. PMU commanders outside Tel Afar say that Iranian military advisers on the ground are helping them conduct operations.
If we leave Mosul to Mosulian people and Anbar to Anbarians they will never be liberated from IS.
It's through this tough terrain that Mayahi is attempting to lead his caravan of Western journalists. It's a job which often more closely resembles babysitting, he confesses, after herding wandering cameramen back to their vehicles for the third time.
For several years he has been doing this job as a volunteer, he claims. When asked who his boss is, his initial reply is "Allah", before saying he is a political adviser to Hadi Al Amiri, leader of the Badr Organization, one of the largest umbrella grouping of PMUs.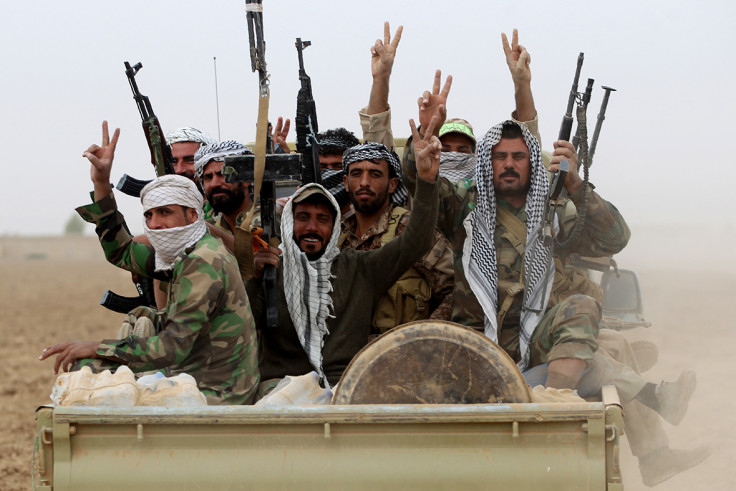 With curly black hair worn slightly long at the back, Mayahi bears a passing resemblance to a young Rob Schneider. He's dressed in finger-less tactical gloves, a khaki T shirt and camouflage fatigues featuring gold coloured zips. The 35-year-old grew up in the US as a refugee after fleeing Saddam Hussein's Iraq in the 1990s. "Three of my uncles were killed by Saddam," he says.
In his telling, the PMU have been grossly misrepresented in the media. Far from being sectarian thugs, they are the proud patriots who halted the Islamic State advance across Iraq in the summer of 2014 after large segments of the Iraqi army collapsed, he says. "Without these guys believe me there would be no Baghdad, no Iraq, and the so-called Islamic state would have destroyed the Middle East."
Mayahi believes the PMU are crucial for recapturing even predominantly Sunni areas on behalf of the federal government. "If we leave Mosul to Mosulian people and Anbar to Anbarians they will never be liberated from IS," he says.
But the dun coloured villages along the route to Tel Afar are emptied of inhabitants and look more occupied than liberated. Mayahi says the villagers fled out of guilt, "because they lived for two years with IS." In their place the Shia militiamen are living rough in squalid encampments, daubing their graffiti on mud brick walls and blasting religious anthems from loudspeakers.
Their flags are everywhere. Each vehicle sports at least one, and from every high point – from archaeological tels now studded with communications towers to the smallest dirt berm – flutter a multi-coloured array of standards featuring Shia slogans and colourful portraits of imams. A yellow flag with red chevron for the Said El Shohada Brigades; Badr's white and green flag with a map of Iraq; Abbas Brigades represented by a hand flashing a victory sign, one finger replaced by an AK-47 assault rifle.
Mayahi sighs theatrically at the sight of the young militiamen from the south rugged up against the wintry early morning chill and shouts encouragement from the window of his vehicle. "Oh heroes!"
His view is somewhat divergent from that of rights watchdog groups Human Rights Watch and Amnesty International, which have both catalogued a range of abuses alleged to have been committed by these groups. Human Rights Watch reported that fighters from Asa'ib Ahl al-Haqq (the League of the Righteous) near Mosul had beaten shepherds and stolen their flocks.
Not all PMU factions are favourable towards Mayahi's advocacy mission either. Many are still staunchly anti-western. The US embassy in Iraq recently warned of the potential kidnapping threat to Western journalists from some of these groups.
A warning comes over the radio as the press caravan approaches one hamlet. "Be careful to take the left side," a voice advises Mayahi. "On the right Kataib Hezbollah are there and they will stop you." Kataib Hezbollah are apparently unhappy about the press tour: "They don't want photo. Even others in the PMU – we cannot see the faces of their leaders or their fighters," Mayahi said.
As the caravan makes tortuous progress through the bad-lands of Upper Mesopotamia, dust cuts the visibility to zero but by mid-afternoon the vehicles reach the airport - or what's left of it. IS earthmovers have ploughed deep gouges from the runway's asphalt. Destroyed hangars are reduced to skeletons of twisted metal and even the concrete bunkers have been blasted into rubble. Tel Afar itself is just a few kilometres away – a drab cluster of low-slung buildings nestled against a long, low ridge.
The journalists are warned not to wander off or try and interview the fighters. Instead they mob the available commanders who produce encouraging soundbites. "Our target is to free all the territory of Iraq," 10<sup>th battalion commander Abu Ali Al Nasri tells the thronging press. "Some people think we are here for revenge but that's not the case."
But IS has other plans, announced by the sound of bullets zipping overhead. The PMU fighters posed dramatically peeping over a berm are clearly not just there for photo opportunities. They are sniper spotters and radio in the location of where they think the shooting is coming from.
Larger rounds howl overhead and the press pack hits the ground in fear. The fighters laugh – the fire is outgoing – but then puffs of brown smoke appear a few hundred meters away. Isis mortars. Then a machine gun starts firing in a long burst. A suicide car bomb has been dispatched, Mayahi hears over his radio.
The journalist's security detail confer and advise a rapid departure. The caravan is slowly reassembled and then makes a slow retreat from the airport. It is soon halted though as the road back must be secured again. The sun is setting by the time the cars are moving again through the dust. The convoy is soon dispersed, with each vehicle feeling its way back through the deepening gloom. As dark creeps out from the shadows it is clear it will be a long, slow drive back to safety.
© Copyright IBTimes 2023. All rights reserved.